Celebrate Your Traditions
Communicate Your Inspiration. "Give your florist, your event designer, and your venue any photos that inspire you, to give them a better sense of your wedding vision."

Identify Your Venue Needs. "Make sure your venue can meet your budget and accommodate all your guests as well as all your traditions."
Reception-Ceremony: the venue now known as Heritage Club at Bethpage
Gown: Lazaro
Tux: Hugo Boss
Flowers & Décor: Ariston Flowers
Photos: Brett Matthews Photography
Cinematographer: Dreamlife
Music: Powerstation Entertainment
From The Bride & Groom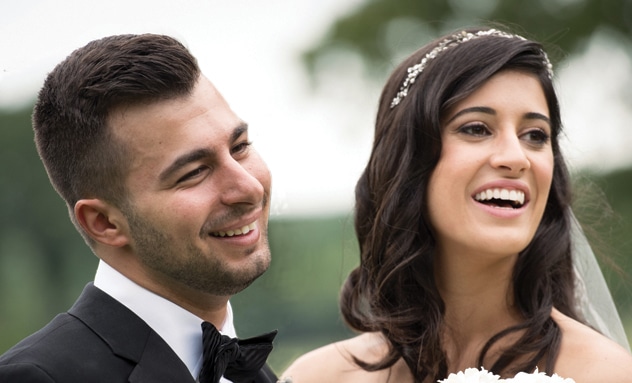 "We met through mutual friends in the summer of 2010 in Greece," says recent bride Maria Orisses. "We  bumped into each other at a beach party and hit it off right away." Their first date was in New York at Bondst restaurant and they dated for four years before Theo proposed.

"I set up a private tour at the Metropolitan Museum of Art," says Theodore Barbagianis. "I had the tour guide take us through the exhibits to a room I had set up as a sort of Maria & Theo Exhibit."

"That room was very special," says Maria. "On the wall were photos of us throughout our relationship. Theo proposed, we went to dinner, and he surprised me by having both our families there, waiting for us to celebrate!"

"For our wedding," says Theo, "we wanted a place our guests hadn't been to and which, since we were having a big Greek wedding, could hold everyone. When we drove up to the venue that is now Heritage Club at Bethpage, we immediately fell in love with it."

"We loved the elegant look of the place," adds Maria. "The simplicity of the ballroom allowed you to add your own special touches to the décor. We also felt the venue was so gorgeous that we could take all our pictures there."
The Wedding Day
They worked with the catering manager. "She understood what we wanted right off the bat," says Maria,"and she came through on everything. Our bridal attendant was by me the whole day, helping when needed. Our maitre d' also made the night go by smoothly. It was impossible to be stressed out."

After their ceremony and photo shoot, they went to the bridal suite and found a selection from their cocktail hour. "They made sure a bit of everything was waiting for us, including our favorites, coconut shrimp, baby lamb chops, and baked clams, which were out of this world. For dinner, Theo's favorite was the duck, mine was the filet mignon, and our guests also could choose coconut-crusted mahi-mahi."

Flowers & Décor
They chose Ariston Flowers as their florist. Theo and his father both work there, so the wedding couple were sure of a great result. "The 'morning of' is very hectic," says Maria. "but Ariston was very efficient. The staff at the Carlyle even commented on how respectful and easy they were to work with."

"From behind the scenes," says Theo, "I've seen what great work these guys do. I know the staff well and grew up with them. They are so courteous and extremely talented. My father would always say, 'Go one step above what people expect and deliver more than perfection.' " (Editor's Note: There was a regional power blackout just days before my daughter's wedding. Luckily for us, Ariston was our florist and they completed all their exquisite creations on time, working by candlelight!)
"Ariston surprised me with a breathtaking orchid display at the place card tables," says Maria. "Over 100 orchids were draping down on each side. It looked like the scene from 'The Great Gatsby' where Daisy walks into the flower-filled room to see Gatsby for the first time."

Tables in the ballroom had tall centerpieces with hydrangeas, peonies, Hawaiian orchids, and candles everywhere. "They also surprised us with leis of Hawaiian orchids and a romantic backdrop behind our bride and groom table."

The best advice they got for their wedding  was to enjoy the day. "You're surrounded by people who love you, so soak it in!" says Maria. "We thoroughly enjoyed our wedding because our vendors had it all taken care of."

"Appreciate and enjoy every part of your day," adds Theo, "because it only happens once!"
From The Florist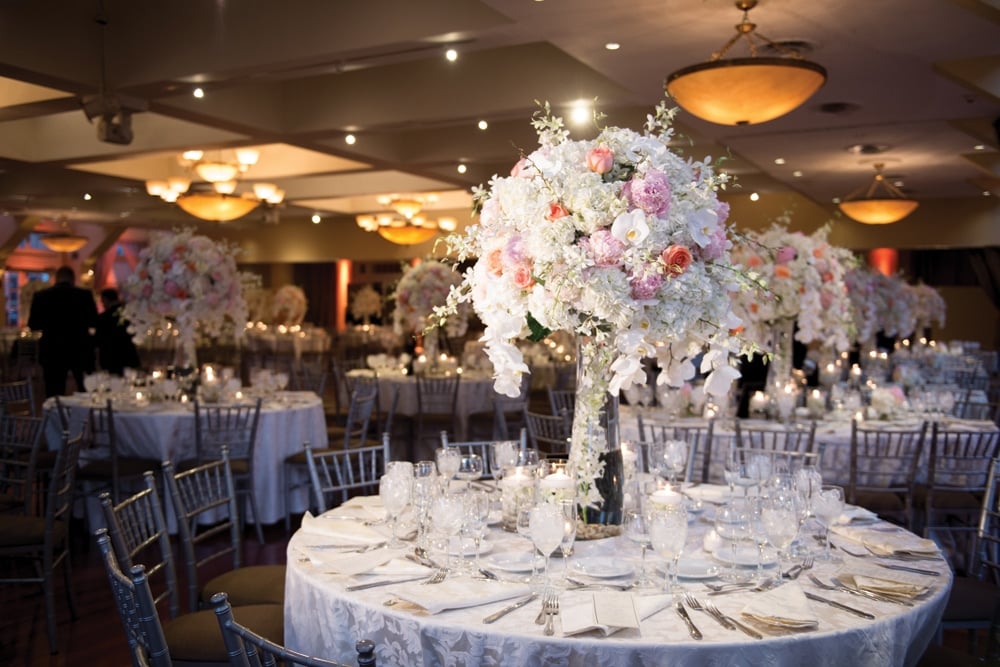 "We asked the couple for any photos that inspired them, to help us find an underlying theme," says father of the groom Tom Barbagianis of Ariston Flowers. "They showed us images with soft romantic whites that had blush accents. Drawing from the bride's dress, the bridesmaids' dresses, and the season, the couple's vision was clear."

Tom tells us that the venue's ballroom is surrounded by windows showcasing a beautiful golf course. "We wanted the space to feel very romantic, so we stayed with a white palette accented by blush flowers."

The team at Ariston had several design meetings with the couple and then strategy meetings among themselves. "We chose seasonal flowers which were full and lush, such as hydrangeas, peonies, and orchids.
"We also had a site visit, which allowed us to see where we could add special touches, such as candles on all the window sills and orchids in the lobby." Due to the size of the arrangements, everything was made on-site to ensure all the flowers would maintain a uniform look. "It took a very large crew several hours to execute such a large event, but this was clearly one of our personal favorites!"
From the Venue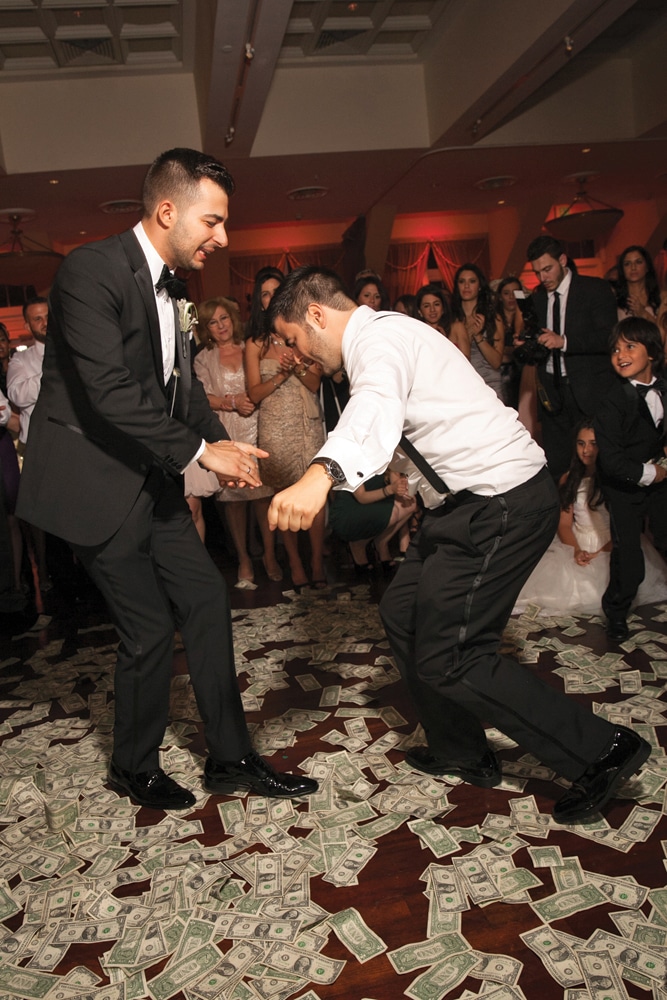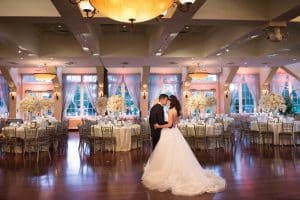 "Because Maria and Theo were planning such a large wedding," the catering manager said, "and because Greek weddings include lots of circle dancing, we used our large conservatory ballroom. It was able to accommodate their 360 guests comfortably and still allow all the traditional Greek dancing."

Although their menu was more traditional and not as reflective of their Greek heritage, the venue provided a roasted pig with all the best accompaniments, "which, of course, was very popular."

The staff worked closely with Ariston to achieve the look that the wedding couple wanted. "Because of all our planning and guidance, I feel we were able to make sure their wedding reflected their personalities as well as their heritage.

"In many catering venues, brides and grooms are left with little guidance after booking, which often requires them to hire a planner. But we were able to help guide, speak with, and listen to them as they planned their wedding. I could offer advice, try to relieve stress, and make the planning process enjoyable.
 
 "Being an on-site wedding coordinator provides you with the ability to help people plan and execute one of the best days of their lives. Every bride and groom are unique and every wedding comes together to be just as unique as they are. Theo and Maria and their families were wonderful to work with and we will miss dealing with them!"

Ariston Flowers, 110 West 17th Street, New York, NY 10011
212.929.4226, aristonflowers.com/wedding/
Heritage Club at Bethpage, 99 Quaker Meetinghouse Road, Farmingdale, NY 11735
516.927.8380, www.lessings.com