The Brownstone | Affordable Budgets, Special Decor & Menus
Reflect Your Personality. "Each venue has a certain personality," so choose one "consistent with your personal style."
View Internet Praise Cautiously. "Some companies have their PR people writing positive responses anonymously. So take web claims with a grain of salt." 

The Brownstone, 351 West Broadway, Paterson, NJ 07522
973.595.8582, [email protected], www.thebrownstone.com
Celebrate Your Wedding Affordably ... with Exceptional Food, Décor, & Presentation
"The typical bride might visit six to eight different venues in our New York, New Jersey, and Connecticut area," says Albert Manzo, owner of The Brownstone. "There are so many choices."
Decor, Upkeep, & Pricing
When choosing your venue, it's important to notice the decor and upkeep and make sure it  meets your expectations. After speaking with a representative about menu and pricing, you should walk away feeling informed and comfortable knowing all your questions were answered.
"Some beautiful places may be unaffordable for some brides, while other venues, perhaps very affordable, don't live up to the bride's expectations. Maybe the room isn't what you were hoping for.
"But each venue has a certain personality, so don't even consider a catering hall that has a décor inconsistent with your personal style. Otherwise, you could spend a lot of money trying to transform the space into what you want for your wedding. That should be done already. That's why the first element of your selection is décor.
"For example, if you're looking for an ultramodern facility, all glass and chrome, you're certainly not coming to The Brownstone. But if you're looking for something classic and elegant, maybe The Brownstone is the place for you."
After you visit a number of venues, based on pricing and the physical spaces themselves, you might narrow it down to two or three. "Then you can dig into the little details, like, for example, what is a premium open bar in each location."
Al reminds us that phrases like "Premium Open Bar" don't always mean the same thing. "Unfortunately in our business, the name of an item does not necessarily indicate what you will get. For example, if I offer prime rib or filet mignon, my cut could be a better grade than at another place or my portion could be larger. It's very hard for the bride and groom to make a true comparison."
Get Personal Recommendations
Though there's no foolproof way to compare items, Al feels your best insight will come from outside recommendations. But he is wary of relying on Internet websites. "They often include people who make seemingly unbiased claims, when in reality there's an underlying motivation. I know, for example, that my competitors have their PR people writing positive responses anonymously. So you have to take web claims with a grain of salt."
Instead, Al suggests getting recommendations from people you know. "Reputation is the best reference. Probably 80 percent, maybe more, of our clientele come to us by recommendation. People who have been here, who have had great experiences, recommend it highly. That's a great way to evaluate your venues. We've had many brides come to us because their sister or friend got married here! I've even been around long enough to do weddings for the children of people I've already done weddings for! It is an amazing experience when you have a client come in and say, 'You did my wedding 30 years ago and now that my daughter is getting married, I want to bring her here.' That's really, really exciting for me."
Al also encourages you to evaluate your experience with the salesperson. Are you being oversold? "If it sounds too good to be true, it probably is."
Get Specific Details
There are also hidden items and costs. "For example, if the manager says, 'Yes, our bar is premium,' that does not always mean they will serve the premium items you really want. A 12-year-old scotch should be included in your premium open bar. Grey Goose vodka also should be included. These items are routinely left out, and if you don't ask for them at the time of sale, they will most likely 'up sell' you later on. It's unfortunate, but it happens a lot."
Al tells us a common complaint voiced by many brides is that they have been asked to conform to the catering hall's menu. They've been told, "This menu is what people like," or, "This is what brides and grooms want."
The Brownstone handles it differently. "We allow you to completely customize your menu," says Al. "We show you an outline and help you understand what we find to be popular over and over again. But at the same time, we give you the opportunity to completely customize your menu.
"So you want to avoid choosing a venue that attempts to sell you a pre-set package that's sold over and over again. At the same time, when there's an ethnic wedding, like, for ex- ample, a Greek wedding, you definitely want a Greek influence, at least for the cocktail hour, and we will offer suggestions."
The All-Important Menu
"When it comes to your menu, look for a place that truly has the capacity to do wonderful things and is willing to create dishes for you, and, in some cases, is ready to do a food tasting to accommodate your wishes." To create the menu for each wedding, Al talks to the bridal couple about their ethnicity, what they grew up eating, and what they love. "They may say, 'We're Italian, but we love sushi,' or 'We love Mexican food.'
Al suggests finding a caterer who is willing to create stations or build an entire menu around dishes you both love. "But at the same time," says Al, "you must also not impose your food choices on your guests. If you love sushi, that's wonderful, but not everybody does. So there can be an influence of sushi on many levels, but certainly not overly dominating the menu. That's not the way to go."
One recent Brownstone bride wanted several dishes with a Polish influence. "We asked what her favorite Polish restaurant was. I went there and so did our chef. The bride also named her favorite dishes, including a certain Polish soup. It was very similar to an Italian soup we've made here for years.
"So for her wedding, we made a soup dish, an appetizer dish, and several items for the cocktail hour. She was very happy because the influence of the Polish food was there, yet we didn't turn it into a Polish feast. The cocktail hour had three or four different fish dishes they identified with and loved. So it made them feel very much at home. That was the goal.
"For Greek weddings, we make wonderful Greek-style stuffed grape leaves. We also make a wonderful homemade baba ganoush and a homemade hummus. We also do a great job on pierogies and other Polish-influenced dishes, plus, of course, the whole range of Italian dishes.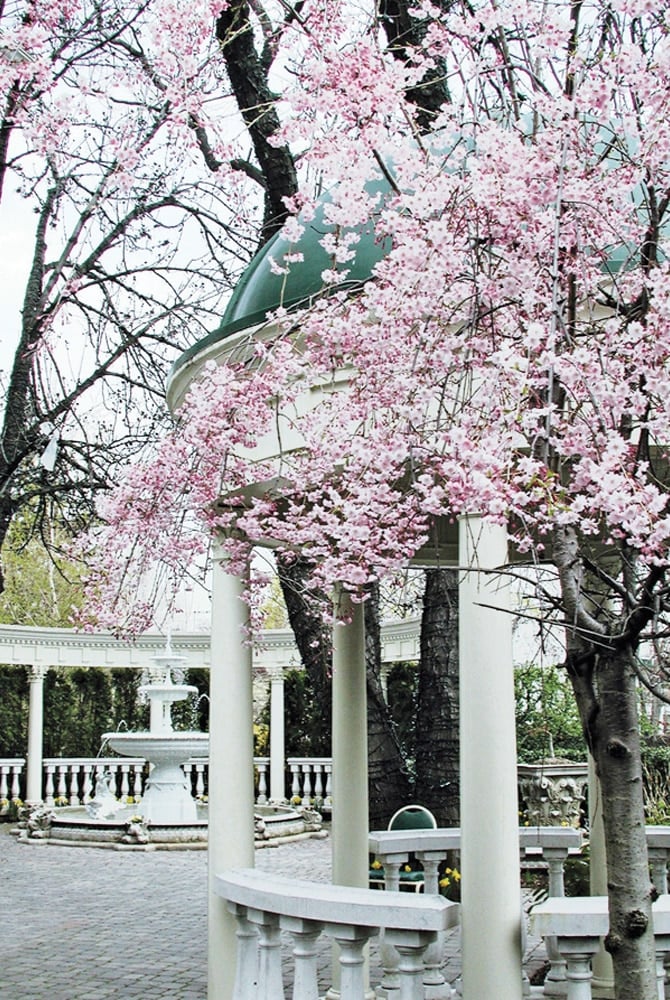 "Just as we did with that bride who wanted a Polish influence, we do the research first, then we make the dish. For example, I made jerk chicken and curried goat one time for a Jamaican couple. We did a tasting for them, because the worst thing you could do is attempt to make a special dish and then have it not live up to expectations. That is very important to me. If I make a dish and don't hit a home run with it, it's worse than just saying, 'No, I can't help you.' It's very important to make sure you get it right."
Your Unique Decor & A Fire-Engine Entrance
The Brownstone does many theme events, but as Al notes, for most weddings the décor does not have a theme. "Typically the décor is influenced by the centerpieces, and I've seen pretty much everything, from exotic topiaries to simple table ornaments.
"A lot of brides want elegance, while other brides want a more casual look. For example, last weekend we had a bride who decorated her tables with Mason jars. They had little light sticks in them, which made it look like there was a firefly in each jar! In front of the jars she had lattice work that looked like picket fences. Then she used clothespins to put the place cards for each table on these little fences. She loves being comfortable and happy, and she allowed that to show in her décor."
Another recent bride and her husband were both volunteer firefighters. "Instead of a limo, the bride actually arrived in a fire truck! It was her personality and that's what she loved.
"We're not here to talk anybody out of something like that. We don't say, 'You should be in a Rolls-Royce that day.' That's not our business. We're here to accommodate the bride and groom on any level. If a fire engine makes you happy, we've got a big parking spot right up in front! Come on down, bring the fire truck and everything else!"
Entertainment Choices
One recent Brownstone wed- ding even had a Boston Pops type of orchestra. "Usually that works very well for the first two hours. Later on, they had a DJ kick it up a notch for the nightclub party."
Many wedding couples want The Brownstone's nightclub option. "We set up a separate room like a nightclub for the after-party. Then the younger people can party in a different atmosphere. We might serve breakfast or sliders, or sometimes just desserts and coffee, and of course, we always have an open bar.
So people who might otherwise leave earlier instead stay here in a totally separate room, partying and enjoying each other's company until closing time.
"We're more than happy to make that happen, and it helps a lot, because when you have a room for 200-plus people, if you have only 50 die-hard partyers, there won't be enough energy in that big a space to keep the party going. But if I put you in a room that's appropriate for 50-75 people, the party can keep going."
Romantic Serenades, Signature Drinks, & More
Rarely does a couple's personal tradition require the venue's participation, but at The Brownstone, they are always ready to assist. "I've had grooms dress up as Elvis halfway through the night!" says Al. "Over the years, a lot of our grooms have sung to their brides and many brides have sung to their grooms. That's pretty special, especially if the bride and groom can sing well. Sometimes it's even more special if the groom doesn't sing well, but he's just going at it, pouring his heart out!"
Over the years, some Brownstone grooms who were musicians were joined by a few members of their band and did a little set. "Many wedding couples also create special signature drinks. "When the bride and groom want a signature drink, we'll print a drink menu and put it on the bar. We'll say 'The bride and groom recommend ...' and make them available. They're usually fun drinks. That's something your guests will enjoy, but we haven't had anyone yet who's said, 'I just in- vented a drink that's going coast to coast!' "
Add Excitement, But Avoid Distraction ... The Brownstone has a smoking lounge near the ballroom, so guests who want to smoke do not have to leave the party. "If you go to a big hotel and you're on the 50th floor, you have to go downstairs and leave the building to smoke. Sometimes smokers may congregate outside, and you can lose them for a while."
The Brownstone has a cigar bar and can bring in special furniture for a lounge environment. "We can create a very comfortable setting for a guy's bar with port wine, cognac, and cigars."
But at the same time, Al takes great care to not create distractions. "We are very sensitive that this is a day to bring your family and friends together to celebrate with you. We do not want to set up a space that distracts people from the reason they are there."
The Brownstone also has three fabulous gardens they can make available to people after the cocktail hour. "But again, if I make the garden too inviting, some couples might end up going to the garden with a cocktail and chat for an hour by the fountain. The party is only four hours long on top of the cocktail hour, so we have to be very careful not to be so accommodating that we inadvertently create a distraction."
A Colorful History
The Brownstone's farmhouse was built in the 1700's and the original building still sits on the property. "We use it for bridal suites and one of our dining rooms." The family ultimately left the area and willed the house to the Sons of the American Revolution, who eventually sold it.
Years later, a soldier coming out of the Second World War bought the place and turned it into a small restaurant and bar. "Back then, no restaurant in the country did catered parties. If you wanted a beautiful catered wedding, you went to a hotel. So perhaps the first, but certainly one of the first, catering halls in the country was The Brownstone." They expanded and by the end of the 50's they added two big ballrooms. It became very successful through the 60's.
"But remember, in the late 40's, when the proprietor started the catering service, people were very happy with just chicken on the bone and ham. Open bar was a bottle on the table!
"By the 70's, other locations began to step up their game and became more elegant, while we were still rustic." Al and his team took over in 1979. "We did not have an elegant place. It was rustic and charming. So for the first few years we worked exclusively on making the food great, and we became very successful on that level alone.
"After the first 10 years we went to the next level and began renovating one room at a time. By the year 2000, we had made the place gorgeous and were able to offer both great food and a beautiful setting."
Exceptional Food & Décor, Affordably
"What we do here at The Brownstone is offer an exceptional blend of décor, food, and presentation, and make it affordable. Over and over again people say, 'I never thought I'd be able to af- ford you, but your prices are fantastic.'
"If a bride and groom have what most catering halls would call an unreasonably low budget, let's say they want to spend $60 a person, I'm not a miracle worker. I can't work with that.
"But if they are willing to work on the date, and work with me on when during the week the party has to happen for that budget, I can absolutely make a spectacular ballroom avail- able for their wedding — on what others would think to be a ridiculously low budget. I'm thrilled to do it.
"When you make that the key, giving a space that is a dream for someone, even if she has to have it on a Sunday afternoon or a Sunday night, or a date in the winter time, an off Tuesday, the feeling is wonderful. It's still something that other people are spending $25,000 to do, and we're making this possible for $10,000, $8,000, or $5,000, depending on the number of people.
"Seeing the bride's face when she finds out that yes, she can afford to have an absolutely gorgeous wedding, to me, is one of the more rewarding things. Then when they come into the office saying they're so ecstatic and they loved everything, it's a really special feeling."
The Brownstone, 351 West Broadway, Paterson, NJ 07522
973.595.8582, [email protected], www.thebrownstone.com