Hilton Pearl River | Wedding Planning & Personalization
Pre-Planning. Before visiting potential venues, you have decisions to make in six key areas.
Your Key Areas Are: Style, Size, Logistics, Budget, Dates, and Decision Making.

Hilton Pearl River, 500 Veterans Memorial Dr., Pearl River, NY 10965
845.735.9000, [email protected], www.HiltonPearlRiver.com
Personalize Your Wedding
Know what you want, then find out what your venue can offer.
"Before you start looking at venues," advises Gerry Burns, catering director of Hilton Pearl River, "decide what type of wedding you would like to have." She encourages you to focus on six areas, noted below.
"Then set up an appointment so the catering sales person has a block of uninterrupted time to give you and the attention you need. Don't hesitate to ask a lot of questions." When you visit Hilton Pearl River, or any thoughtful venue, they first try to assess your needs. "Then we review our menu and pricing structure," says Gerry, "and provide a guided tour of the hotel.
"We also try to have you view our hotel a few hours prior to a wedding. It gives prospective bridal couples a better feel of how we set up for a party. It also gives a more accurate representation of how the space looks for an event."
Evaluating Your Venue
It can be a challenge to envision the end product when you're looking at an empty room. "Most locations will have photo albums available for viewing, which will help you picture the space decorated in different ways to suit different styles and personalities," says Gerry.
"There are always questions to ask us, or any venue," says Gerry. "Is there any flexibility on menu items? For a kosher-style affair, can an innovative non-dairy menu be created? Are chefs comfortable with creating a specific traditional ethnic dish? Our culinary staff has the talent to produce a wide selection of foods for the most selective brides, but not all catering facilities have that ability."
Before Visiting Your Venue: Key Decisions
Director of Catering Gerry Burns suggests making six initial decisions ...
1. STYLE. Would you like a formal black-tie dinner or an informal buffet? Will you include children at your reception?
2. SIZE. How many people do you plan to invite?
3. LOGISTICS. Do you want your ceremony at the venue?
4. BUDGET. What do you plan to budget for the wedding?
5. DATES. What time of year would you like, and what day of the week — Saturday night, or are you flexible? (Typically, Saturday night commands the highest price point, whereas Friday evening and Sunday afternoon affairs have a more flexible pricing structure.)
6. DECISION MAKING. Will your parents be with you as you scout venues? (If so, you, your groom, and both sets of parents should have agreed upon your plans in advance to make the most productive use of your visit.)
"Of course, you should ask about pricing structure and what that includes. Is there special pricing for children and teens? If having an exclusive party is important to you, ask if that requires a guaranteed minimum number of persons.
"We are confident that our wines, champagnes, and liquors are well suited to our sophisticated clientele. Certainly ask what brands are routinely served. If you want menu or bar upgrades, such as a sushi bar attended to by chefs, or a fashionable martini bar, inquire about the costs."
The Hilton Pear River's lobby lounge may be the perfect spot for your guests to relax and unwind after your affair has ended. "Another advance of a hotel venue is the convenience of overnight accommodations and preferential guest room rates," says Gerry.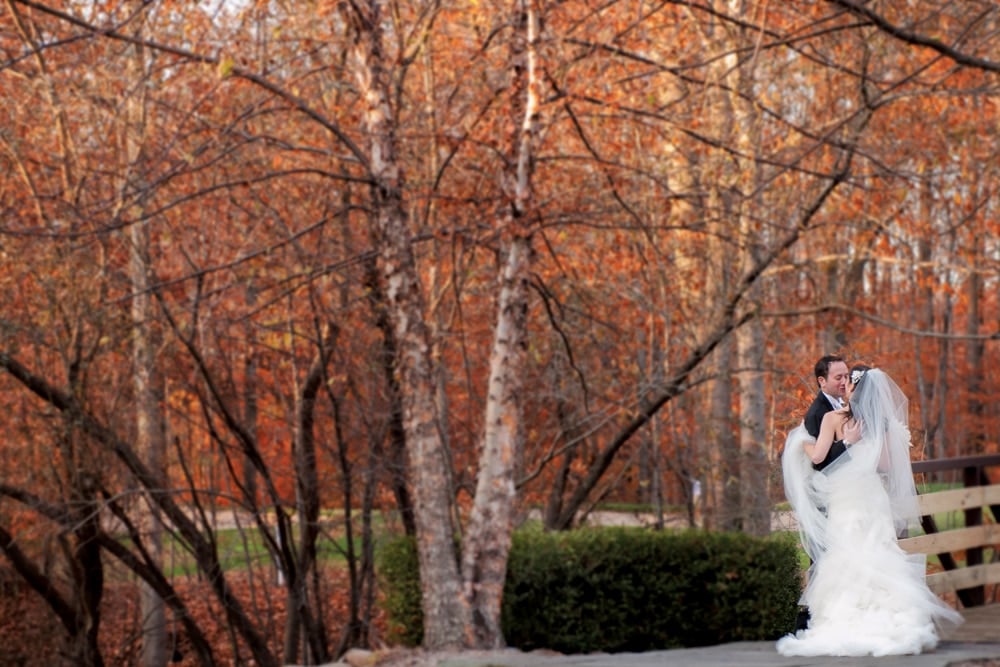 "We have confidence in the quality and reliability of our preferred vendors. But of course you may use any band, photographer, or florist. For the security of all, we require insurance certification from outside vendors."
If you want to host a breakfast the next day, what are the prices for different menus? "In our hotel, you might be able to use the garden room, Le Jardin, which overlooks the Blue Hill Golf Course."
Also, do you have the opportunity to taste the food and beverages beforehand? "We do a tasting for the bride and groom, and parents a few months prior to the wedding. This gives you an excellent opportunity to sample the food items and wines before making your final selections for your special day. It usually turns into a fun evening for everyone, and is a nice break amid the stress of all the planning details swirling around you."
Research Your Venue
"Ask the key questions when selecting your wedding site."
1. MENU
• What types of liquor and wine are included?
• How many bars are used for the cocktail hour? For dinner?        
• If you want an after-party or a brunch the next morning, what menus are offered?
2. SERVICE
• Do you host more than one event at a time?
• Do the servers take drink orders and pour wine and champagne at the tables?
• What is the ratio of servers to guests?
• Does the venue include a "tasting" before the wedding, to confirm your menu choices?
3. BUDGET
• What minimum guest count is required?
• What is included in a package price?
• What insurance must outside vendors produce prior to the wedding?
• If you want to host an after-party or a brunch the next morning, what pricing is offered?
4. ACCOMMODATIONS & DECOR
• If the venue is a hotel, is there a complimentary bridal suite?
• Can you arrange a room block with a preferential rate for overnight guests?
• Are there any plans for construction or renovation, which might change how you would decorate?
Personalizing Your Wedding
You and your groom can reflect your personality as a couple at your wedding by making sure the venue really listens and hears what you are saying. "Be forthright about your expectations and any concerns you may have," says Gerry.
"The venue should be willing to work with you in producing a wedding that is a reflection of you and your groom, while providing realistic suggestions based on your budget."
The Hilton Pearl River has planned events such as a 500-person Indian wedding — "in which, for the procession, the groom rode in on a horse" — to an intimate upscale 50-person affair. "There the focus was on understated, elegant simplicity. We've also done everything in between.
"Whenever possible, our catering manager, maitre d', and entire staff helps incorporate cultural traditions by way of their dress," Gerry explains. "At an Indian wedding, for example, they will wear saris."
Personalizing your wedding can be essential to how memorable and enjoyable it is. "Here at the Hilton Pearl River your catering manager works with you throughout your planning, and is present the day of your event to ensure all details are taken care of. We also try to provide ideas that personalize the event for you."
These can include creating special welcome bags with carefully selected goodies for your guests at check-in. "Your welcome bag can include a personal note welcoming your guests as well as the itinerary for the weekend, outlining the timing and location of the rehearsal dinner, any pre-wedding activities, and the farewell breakfast the morning after.
"The Hilton Pearl River has a wide offering of rooms for different events, and providing your guests with an itinerary allows them to feel more at ease with where they are expected to be at any specific time."
Beautiful Grounds
A European style facility with manicured grounds, "our lawn provides a beautiful backdrop for an outdoor ceremony, as it overlooks a lush golf course.
"One of the best things about our hotel," says Gerry, "is our French château styling, which affords the convenience of a hotel with a much more romantic ambiance."
The hotel's garden room, Le Jardin, often hosts an informal BBQ the evening before the wedding. "Our Conservatory, with its hand-painted domed ceiling and fiber-optic lighting, and our majestic Grand Ballroom, with floor to ceiling windows, offer an elegant, private, and magnificent setting for cocktail hour and dinner-dance.
"Every bride and groom has different ideas about what they would like. We try to guide them without taking away the creative control, while maintaining an eye on their budget.
"Timing is so important at a wedding. We create a timeline with you so all your desired elements — such as toasts, speeches, and dances — are worked in with the music and the menu to maintain a flow to the evening. Speeches should be short and sweet, as those hours fly by."
Gerry explains that maitre d' Barbara Kelly will speak with the band in advance, so the courses of the meal and the rituals of the evening are choreographed appropriately. "This way the evening flows and does not seem choppy."
Event menus are now usually three-course functions, with an amazing cocktail hour. "This eliminates the need for seating people on four or five separate occasions for different courses. It also lends itself to a more fluid evening."
Attention To Detail
The owners of The Hilton Pearl River personally selected the décor with the designer and are always making improvements. "We also have a large percentage of long-term employees, like myself, which I feel adds immeasurably to the level of service each guest receives.
"A testament to this is the consistent influx of letters and phone calls telling us about their wonderful experience at the Hilton Pearl River, whether it was the food, service, or ambiance.
"On a personal note, I have a job that I love in a place that creates amazing weddings! Each one is different, always personalized, and fulfills the 'dream' of the bride and groom, who entrust us with one of the most important days as they begin their life together.
"To be a part of this day is a privilege that we don't take lightly. I think this genuineness accounts in large part for the level of repeat business we receive, as well as referrals of friends and family for other types of events."
Hilton Pearl River, 500 Veterans Memorial Drive, Pearl River, NY 10965
845.735.9000, Ms. Gerry Burns, [email protected], www.hiltonpearlriver.com