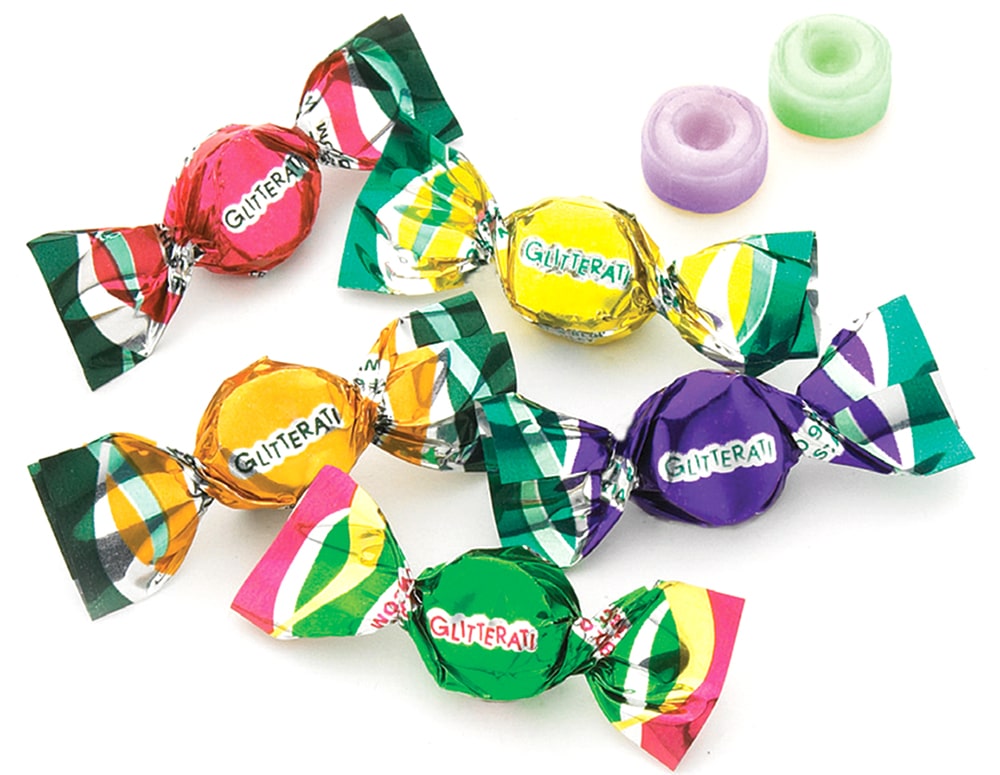 Overview
---
Chipurnoi Glitterati from Italy is wrapped in eye-catching foil. These tiny hard candies pack big hits of blackberry, pear, guava and other fruits.
A third-generation family business, the company introduced European specialty foods and candies to America during the early part of the last century. Today they produce a range of individually wrapped miniature candies in Italy — perfect as colorful favors for any event — and for your wedding!
They offer "The World's Most Romantic Candy," Glittterati Amaretto D"Italia. Inspired by the famed liqueur of Saronno, they capture the essence of this classic Italian specialty in their dazzling red wrappers and the sweet, nutty taste.
Their most popular assortment is Glitterati Fruit & Berry, with flavors like luscious blackberry, strawberry, pear, orange, and lemon.
For nearly 75 years, their Chips candies have been a favorite of many professional speakers and singers. These amazing little pastilles are lightly mentholated to gently soothe the throat, freshen the breath, and please the palette with flavors of cherry, blackberry, lime, lemon and orange.
More! Their Puntini Fruit Mix — delicious Italian fruit-flavored jujubes — include gourmet flavors of liimoncello, mandarino, limetta, blackberry, and amarena cherry.
Now they offer all their distinctive Italian candies directly to you for your wedding through their online store.
Contact: Wedding Consultant
860.364.0870
[email protected]
checkmatescandy.com
Awards
---

0

out of

5

based on

0

reviews.

Overall rating:
More
---
No items found