Ad Rates | Print
Manhattan Bride's Print Advertising ... and its Added Value
Manhattan Bride has a circulation of 40,000 and offers extra value through its award-winning pages and website ... and now we offer more than ever. (Ad Schedules and Additional Special Services are indicated below.)
Print & Digital Magazines. With your Ad in the Print edition of Manhattan Bride, your Ad & Editorial are now also in our Digital magazines. This gives you and our brides the ability to share your coverage in our magazines via Facebook, Twitter, Pinterest, and more, just as they share your coverage on our ever-growing Website.
Online Vendor Profiles ... Special Resource Ads. To accompany your print ad, at no extra cost, as an advertiser in Manhattan Bride magazine you're also featured in your own exclusive online Vendor Profile. You're also in our Print and Digital magazines with your own Resource Ad.
Circulation: 40,000 per issue
Distribution: New York, New Jersey, Connecticut
Frequency: Semi-Annual
If you have any questions, please contact our Editor-Publisher, Rick Bard, at 212.265.7970 or [email protected]
---
AD RATES, Net Per Each Ad, in Each Issue ...
As noted, the rate for each ad is lower if you advertise "2x," appearing in two consecutive semi-annual issues.
Full page: $3375 per each ad in each issue
1/2 page: $2350
1/3 page: $1975
1/4 page: $1450
1/6 page: $1250
1/8 page: $990
Full page: $3925 per ad
1/2 page: $2795
1/3 page: $2325
1/4 page: $1795
1/6 page: $1475
1/8 page: $1200
Full page: $2595 per each ad in each issue
1/2 page: $1750
1/3 page: $1350
1/4 page: $1025
1/6 page: $825
1/8 page: $725

Full page: $3050 per ad
1/2 page: $2050
1/3 page: $1575
1/4 page: $1250
1/6 page: $995
1/8 page: $825
2-Page Spread: $6175 per each ad in each issue
2nd Cover (inside front): $3875
3rd Cover (inside back): $3575
Back Cover: $4395
2-Page Spread: $7250 per ad
2nd Cover (inside front): $4550
3rd Cover (inside back): $4100
Back Cover: $5175
---
Ad Creation services for your print ad are available. For those bridal vendors without advertising agencies or in-house digital production staffs, our award-winning design team can create your ad. Design, copy editing, and proofing services for a full-page ad are $595; for a fractional page ad they are $395.
Advertising Photography services are also available. Ad photography to generate images for your ad, and for any further online or promotional uses you might envision, are priced from $495 to $1250, depending on complexity, plus expenses.
After a feature has been published in the magazine, as a special service, we can reformat the article for the Manhattan Bride website. This includes adding all the appropriate Social Media icons to the article and also linking the article to all related articles, all appropriate landing pages, all appropriate menu categories, and to your Vendor Profile. The charge is $795 per each six-month period.
Photo Usage. As a special service to our advertisers and to our brides, we reformat our award-winning On-Location Fashion features and put them on our website. Clicking on any such photo expands the image into a large format, which you can download for your website and for most printing projects.
Photo Credit Required. To comply with our copyright and our model releases, any image used for your site or for a printed project must be accompanied by the following credit "As Seen in Manhattan Bride, Photo by Rick Bard."
Original Hi-Res Image Fee. If you want any original hi-res images for a more elaborate printed project, the fee for each image provided is $150. In that case as well, the image(s) must be accompanied by the above credit line.
---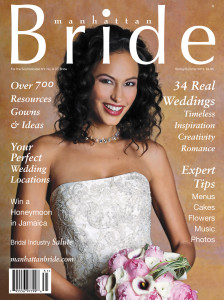 Ad Terms: A space reservation deposit of $300 is required. Upon receipt, your Online Vendor Profile will be created and uploaded. Full payment is then due with materials. Past due bills are subject to a 1.5% monthly finance charge.
Agency Commission: 15% to recognized agencies, added to above net rates. Preferred Position Premium: 10%.
Advertising Space Agreement: Advertising is subject to Publisher's approval. Ad positioning is at the publisher's discretion, except where preferred positions are agreed upon. Cancellations or changes must be in writing at Manhattan Bride's office prior to closing. Advertisers assume liability for ad claims.
---
Advertising Schedule
If more time is needed to get us your ad files, please contact our Editor-Publisher, Rick Bard, at 212.265.7970 or [email protected]
2024 Issues
Ad Close ... Nov 17, 2023
Files Due ... Dec 19, 2023
On Sale ... Mar 12, 2024
Ad Close ... May 29, 2024
Files Due ... June 27, 2024
On Sale ... Sept 10, 2024
2025 Issues
Ad Close ... Nov 21, 2024
Files Due ... Dec 19, 2024
On Sale ... Mar 13, 2025
Ad Close ... May 29, 2025
Files Due ... June 26, 2025
On Sale ... Sept 10, 2025
---