Brazil Honeymoon | Unspoiled Eco-Tourism and Majestic Beaches
Where to Stay:
Hotel Gran Marquise
Fortaleza, granmarquise.com.br
Hotel Mosquito Blue
Jericoacoara, mosquitoblue.com.br
"Hold on!" our guide, Christiano, yells back to us from his shotgun seat next to the driver of our dune buggy. There's no room to even sit in the back, and it is part of the excitement of this beach town, Jericoacoara, Brazil, to sit atop the rear chassis, hold onto the roll bar and see an exotic new world of powder sand beaches, remote locales, and things we've never seen before. 
"Hold on!" It's the catch phrase for the time of your life. Every day, every activity, every night on this honeymoon you need to hold on to your beloved, to your excitement, to your memories.
Miami South
We started our Brazil adventure in Fortaleza, a city similar in look and feel to Miami Beach, with a row of hotels directly across from the sheltered ocean beaches with ripples for waves, great for bathing and not so great for surfing. At the Grand Marquis Hotel, walking into the lobby evokes a sense of wonder with its multi-level modernism, fountains, greenery, bars, and open areas. The beach itself is a wonderland, with soccer volleyball, exercise classes, and street performers all vying for attention. At dusk every night a market of 1,000 booths opens, selling clothes, jewelry, and Brazilian goods and souvenirs. 
Fortaleza is home to many fine dining experiences: we ate at Ancora, Coco Bambu, and Oui Maison, which combines a wonderful restaurant, a kitchen theater, and a home-kitchen supply, meat, and wine market. Fortaleza's evening activities include the Cracked Crab Fest on Thursday nights or dancing the night away at a club. 
Fortaleza is at the midpoint of the local beaches, so we plan two excursions. First we go west, to Jericoacoara. This must-not-miss town makes our honeymoon the experience of our lives. We walk out of our hotel to meet Christiano, our guide, driver, and new best friend. His company, Coiote Buggy Tours, is well known in the area and Christiano comes well-recommended. He packs our bags on the top of his Land Rover and we set out on our 4-wheel adventure. 
Hold on! It only gets better from here.  
Driving on the Beach
Driving west out of Fortaleza, auto congestion eventually yields to driving behind slow moving trucks and horse carts. Christiano makes a right turn and suddenly we're driving on the beach, along the ocean, on fine white sand. Over the course of hundreds of kilometers, we watch kite surfing, fishermen picking over their catch,  sand dunes rising like white mountains, and rivers carved by the uneven pounding of the surf on the beach. No one asks, "Are we there yet?" This is eco-tourism at its finest. 
We follow the tide lines, reveling in the varying colors of the blue-green sea and the light blue sky. After a quick coffee in a small town, we head back to the beach, watching family picnics, parasailing, windsurfing, and locals enjoying themselves.
The Brazilian government has classified the entire beachfront here as an eco-tourism protected area. This is an area of hundreds of miles set aside to protect the magnificent beaches and the local wildlife for future generations. Christiano is one of the few guides licensed to drive through this area and the protected beauty of beach and dune, sea, and sky. The 300 km trip takes all day, but lunch in a small seaside restaurant and a swim in a sweet water lagoon make it a day of fun in the sun.
We get to Jericoacoara just at sunset and ride into this town of three sand avenues and four sand streets set in a grid. From the lobby of our hotel, the Hotel Mosquito Blue, we walk out to the gardens with pools designed with waterfalls to give a natural feel. Our suite-like room has a terrace and the floor below has rooms with patios. Privacy is provided by lush landscaping. The salon offers a menu of massages as well as manicures, pedicures, and a Japanese deep soaking tub.   
The town is mostly boutiques and restaurants, mostly outdoor dining. Dona Amelia's, Restaurant Tudo Na Brasa, and Pimente Verde Ristaurante are recommended for lunch or dinner. The town is all in walking range, all casual, and all fun. 
Horseback Riding, Swimming, & Kite Buggying
On our first morning in Jeri, after an early breakfast we meet Christiano and several horses and guides. We canter along the beach to the Prominent Point lighthouse, just meters from the cliff with a panoramic view of sea on three sides and Jericoacoara perched far below. We pass by grazing cows, goats, and horses. My horse, whose name means Cowboy Party in Portuguese, is the perfect ride for me. As inexperienced as I am, he still follows my lead, going at full gallop when I ask him to and slowing down when it gets too fast.   
We dismount at the hotel lobby, go for a quick swim and long lunch, and head out for our next activity, kite-buggying on the beach.  Three oversize soft tires support two rows of seats. We sit behind our driver, who holds ropes on handles that control the aerobatics of the kite. The driver says, "Hold on!" and we are swept by the wind up the Sunset Dune. Our driver makes a left and we fly down the far side of the dune into a lagoon where we splash in laughing, as the wind in the kite pulls us to and fro.   
After an hour of excitement, we walk along the ocean cooling our ankles, then up the almost 100-foot high Sunset Dune to join the crowd gathering there to watch the sun set into the sea, a nightly ritual. We marvel at the scene atop this seaside mountain of soft sand. Vendors and musicians make money from locals and tourists while sand-boarders throw a small board onto the sand and fly over the edge of the dune toward the ocean. 
As the sky darkens, we stroll down the dune to the beach below and watch Cocuera, a warrior dance choreographed so that jumps and attacks are timed to music played on local instruments.  A crowd circles the dancers, including a 3-year-old who is learning the steps so that someday he too can dance as a warrior. 
Our late dinner is delicious and fun as we talk with other diners in the cool night air. All of us agree to go to the club down the block and there we dance to the beats of music from dozens of cultures.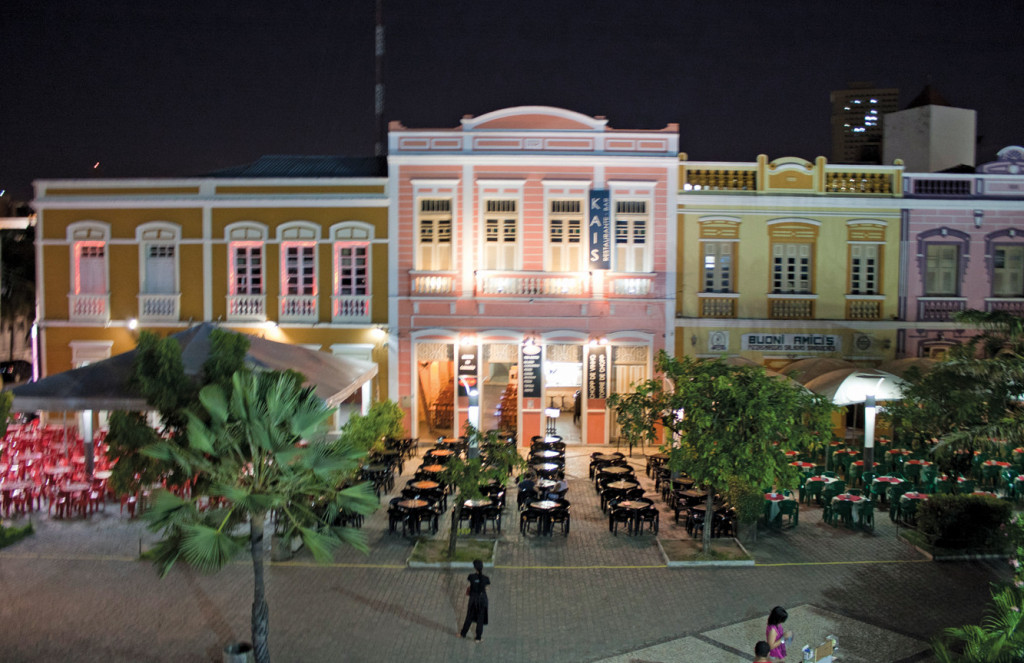 Eco-Sights & Zip-Lining
The next morning we meet Christiano and our dune buggy driver on the beach just steps from our breakfast table. We are told to "Hold on!" as we scoot away beyond Sunset Dune. Our first stop is a protected site for baby seahorses and red crabs – don't touch and no getting out of the boat, just marvel. We drive over massive dunes and travel through mangrove in the well established environmental preserve. The bright sun, blue water, and white sand are taken in as the wind blows on our faces as we zoom along.   
We get to Tiube, recently rebuilt after the winds off the Atlantic buried the town that had existed for hundreds of years before. We learn the story from a woman who now runs a canteen and storytelling site on the town's high ground. Next stop is a zip-line splashing into refreshing waters. We order lunch and relax in a hammock in the sweet water lagoon. Along the way home, we need the assistance of ferry boat operators to cross rivers that weren't there hours earlier, when the tide was out. 
As we get close to home the tide change is so dramatic that there are a couple of places where we are splashing through the waves at the high tide line, or even waiting for a wave to recede. 
On the beach strip next to our hotel is the Casa De Areia offering absolute privacy. It only has four rooms. The Villa Kalango has thatched roof circular rooms. On the other side is The Chili Beach Hotel. Jeri also has many posadas, or B&B's, for those on a budget. On this vacation the only shoes you need are your newly-purchased Havianas or the flip-flops you brought from home, and you won't wear them all the time. 
High season is July and August and December through Lent. Rainy season is from mid-March to early May. In Jericoacoara, except for rainy season, the weather is almost always perfect. 
We return to Fortaleza the next day in time to shop in the Central Market, which has several floors of booths selling wares of all sorts. Each time we come back to our hotel, the Grand Marquis inspires the most wonderful feeling of being treated like a king and queen.  It's the perfect place to use as a home base for explorations.  
The next morning we make our excursion to Litoral Leste (the Eastern Coast), heading toward Canoa Quebrada, the crescent beach town a little more than 100 miles from Fortaleza. We ride along the red rocks of Morra Branco, stopping to buy a bottled sand sculpture. At The Embroidery Center, we buy an exquisite table cloth. We buy place mats at the corn husk center, where artisans also display handmade bags and rugs. While the Brazilian government thinks everyone should visit the water park, we feel we've been on an amusement park ride the entire time. Instead, Christiano finds another zip-line and we splash into lagoons. We drive on to Canoa Quebrada for lunch, where artisans walk by along the beach with unique gifts. We purchase a wood sculpture made of cashew bark painted with the depiction of the the red cliffs and the town above.   
Back in Fortaleza we have some rest time before going to the weekly Crack Crab Fest where we share a night of drinking cervejas (beer) or vinhos (wine), eating all-you-can-eat crab, and dancing and singing with the locals, who do this every week. 
We wake up the next morning ready for the journey home. However long it takes, it's more than worth it, and we promise we'll do this trip again. It is our honeymoon and these wondrous shared moments form lovely memories that will last forever. We have learned the lessons of this Brazilian paradise well. "Hold On!" — Stan Cohen