Maui Honeymoon | An Extraordinary Island of Natural Wonders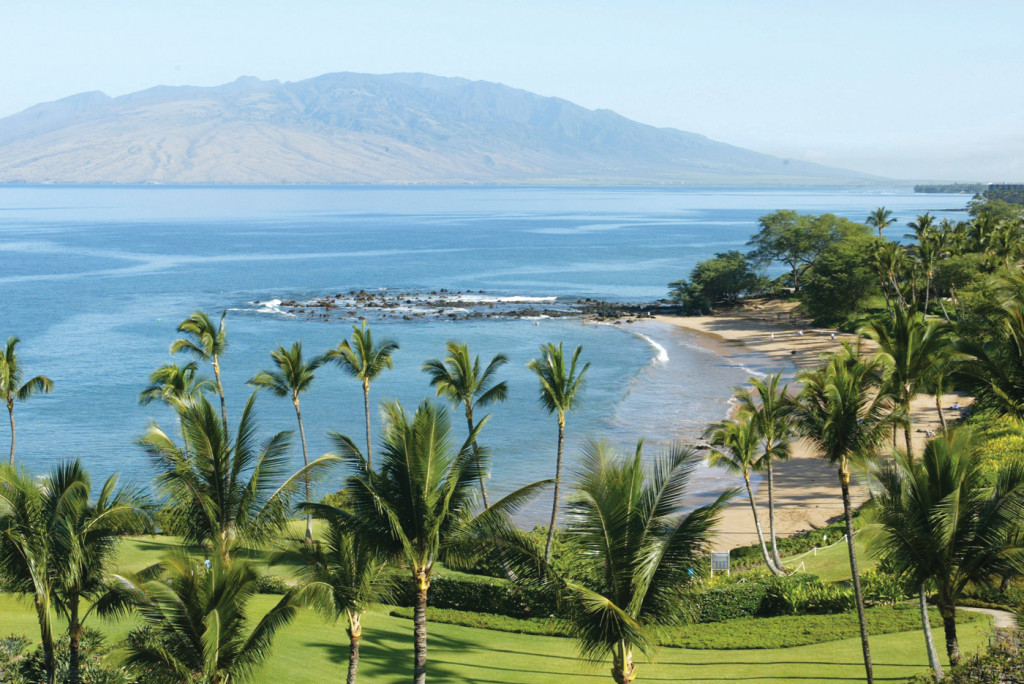 Where to Stay:
Royal Lahaina Resort
800.280.8155, www.2Maui.com
Hotel Hana-Maui
808.248.8211, www.hotelhanamaui.com
Wailea Marriott, An Outrigger Resort
808.367.2960 www.waileamarriott.com
Welcome to Maui
The second largest of Hawaii's islands, Maui offers an extraordinary range of natural wonders. Created from two entirely different  volcanic masses, it includes one of the best wind-surfing spots in the world, dramatic mountainous regions, and lush flatlands.
There are 120 miles of beaches to visit, with sand that is white, gold, black, and even green, because of ancient volcanic activity. Then there is the island's peak, Haleakala, the world's largest dormant volcano. It rises just over 10,000 feet, has a basin the size of Manhattan, a national park, and a space-age research facility.
Maui has more miles of swimmable beach than any other Hawaiian island, one of the highest waterfalls in the U.S., and the lowest temperature ever recorded in the Hawaiian Islands (11 degrees in 1961, atop Haleakala).
The island is home to countless destination weddings each year, and has been voted "Best Island in the World" by readers of Conde Nast Traveler for nine consecutive years and "World's Best Island" by the readers of Travel and Leisure for five years.
We loved our stay.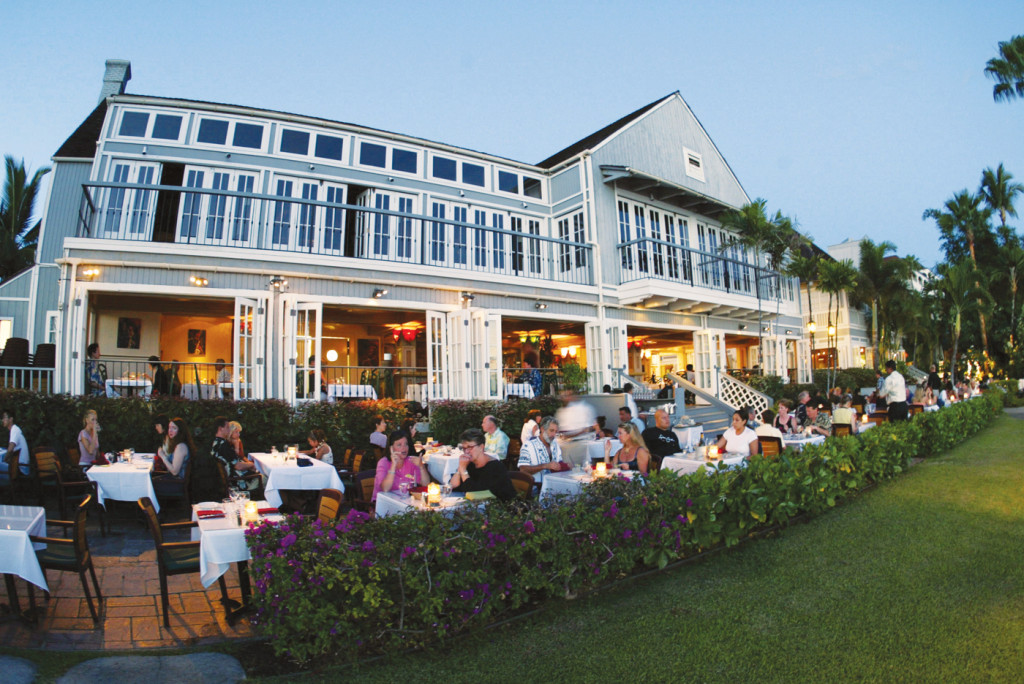 The Beaches of Lahaina
Lahaina was once the royal capital of the Hawaiian kingdom and the seat of power for the Kamehameha dynasty. By the early 19th century it had become the port of the Yankee whaling fleet, welcoming as many as 400 ships at a time to its magnificent harbor.
As you arrive with your husband, you will be enchanted by the beaches and the lush gardens of The Royal Lahaina Resort, which has intimate private cottages spread throughout its elaborate gardens and luxury suites that face the ocean.
"We also offer a two-bedroom house, with its own private garden adjacent to the beach, plus its own pool, jacuzzi, and waterfall," says Jerry Sager. "It's become one of Maui's most popular sites to hold weddings and receptions."
The hotel's wide range of services and its many rooms and suites (it also has a large 12-story main tower) make it one of the island's larger resorts. It regularly welcomes many traveling tourist groups and families, as well as newlyweds.
The Royal Lahaina has the largest tennis facility in West Maui and is adjacent to the beautifully groomed Ka'anapali North Golf Course. The resort features two oceanfront pools, offers complimentary scuba lessons, and provides full scuba certification. 
"Our intimate setting is just three miles from Lahaina Town. But we're separated from the other properties that line the beach by a natural cliff. It's known as 'Black Rock,' and it provides us with a degree of 'intimate seclusion.' "
For a romantic night, get picked up directly from the beach fronting the hotel and enjoy a sunset cocktail, dinner, and whale watching cruise.
"Of course every evening the sun sets over the Pacific directly in front of the resort, dropping down between the neighboring islands of Molokai and Lanai. It paints a beautiful and colorful sky over the ocean and against the dramatic backdrop of the West Maui Mountains."
Destination weddings at the Royal Lahaina are handled by their on-site wedding planner who can assist with all coordination, including the resort's own, very unique, romantic tradition.
"We place a personalized stepping stone on our property for each couple," says Jerry, "engraving each one with your names and your wedding date."
They line the path to the resort's gazebo and are placed at other prominent areas in the resort. "Couples love to come back on anniversaries to locate their stone and to remember their special day."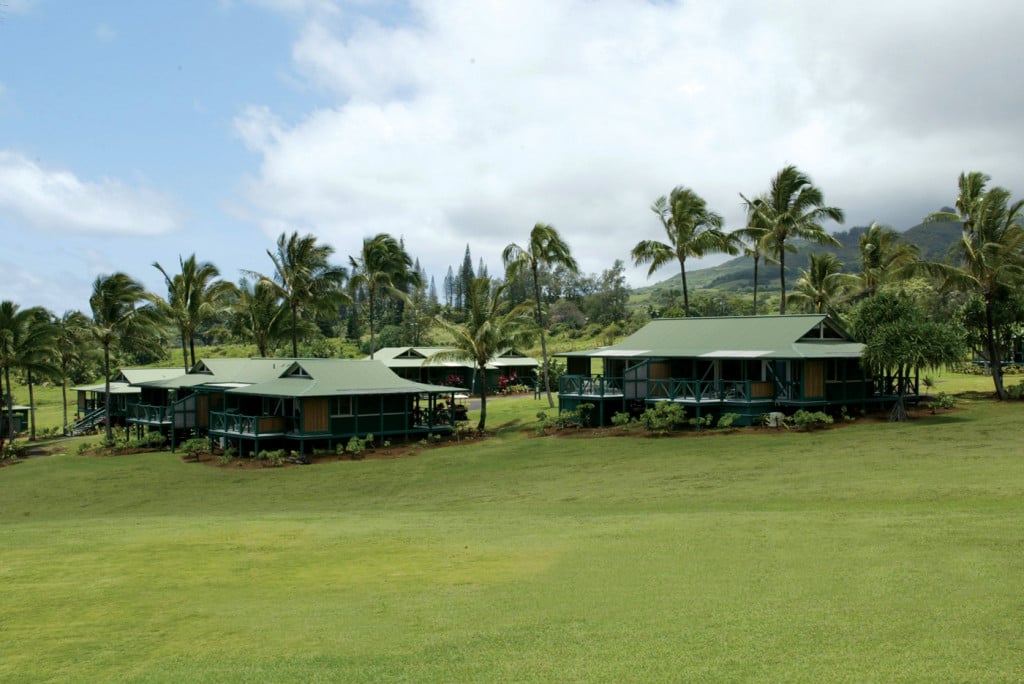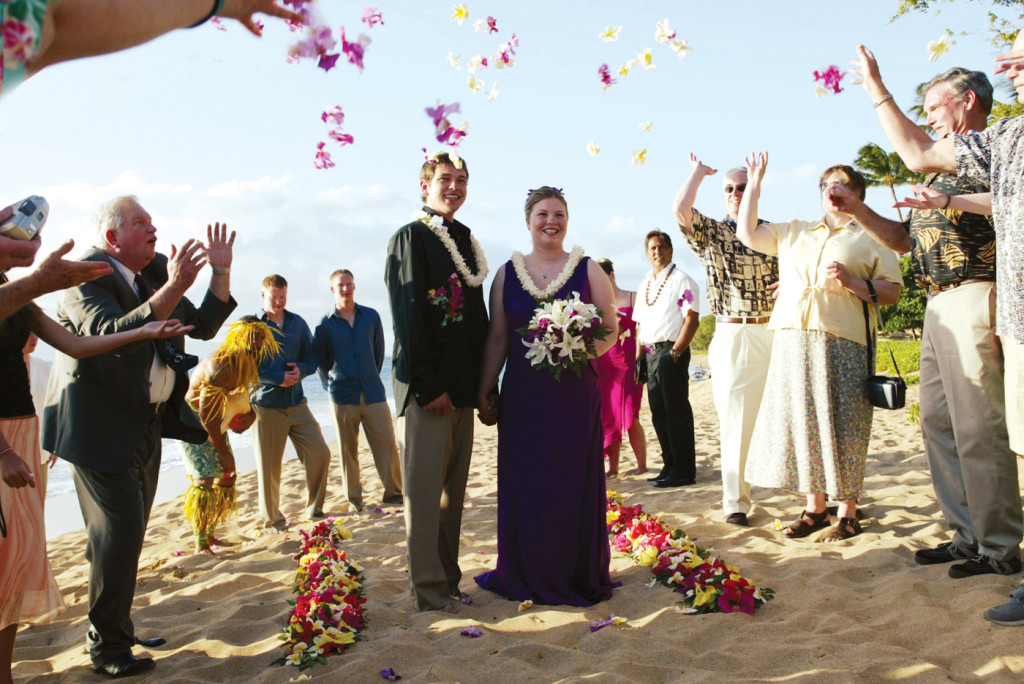 Hana — A Touch of Old Hawaii
Located on the eastern end of Maui, Hana is the last unspoiled Hawaiian frontier. To get there, you travel the infamous "Road to Hana," crossing all of its 54 one-lane bridges, and traversing each and every one of its 600 incredibly tight curves, some almost bending back on themselves.
Those who are driving will have their eyes glued to the road, while their passengers revel in the spectacular waterfalls splashing nearby, fruit trees (mango, guava, and banana), and breathtaking vistas dramatically unfolding around many bends. 
Your trip is fully rewarded when you arrive at the intimate Hotel Hana-Maui and are greeted by its gracious staff, who promptly take your bags, offer you a delicious tropical drink, and welcome you in warm island style.
Sitting on over 30 acres of pristine land, Hotel Hana-Maui has just 66 private cottages and rooms dotting its landscape. Some include private decks with their own hot tubs.
As you check in, the cheerful desk clerk proudly lets you know that you won't find televisions, clocks, or radios in your room. You are in unspoiled Hawaii, where nature is given the freedom to take its course, and you are given the freedom to enjoy it.
But every other amenity is included. Hotel Hana-Maui has two swimming pools, for example, and its Wellness Pool also has an infinity hot tub with incredible views of the blue Pacific.
There is morning yoga every day, croquet, tennis, a three-hole pitch and putt golf course, hiking and jogging trails, bicycles, snorkeling equipment, and boogie boards. The Club Room has a computer with complimentary high-speed Internet connection for those who must stay plugged in.
Friday nights are Hawaiian Show nights in the hotel's main dining room, where you enjoy a luscious island buffet and local musicians and dancers as they share songs from Hana.
A short distance from the hotel is Hamoa Beach, recently rated one of the five most romantic beaches, and the best beach in Hawaii for natural beauty.  
"Our most romantic accommodations are the oceanfront sea ranch cottages, which include a spa," says Hana-Maui General Manager Doug Chang. "They are just steps from the ocean and offer the ultimate in privacy and indulgence."
In your oceanfront cottage you can sit in your private hot tub with a bottle of champagne, have a tandem massage by the crashing surf, or enjoy an intimate candlelight dinner.
If you decide to leave your room, "At sunset, sit side by side in steamer chairs on the lawn at the ocean's edge," suggests Doug. "You can see Alau Island and on a really clear day you can see the mountain peaks of the Big Island. In the winter Mauna Kea even has snow."
Go for a private horseback tour along the spectacular Hana coast or a sunrise swim at Hamoa Beach.
"With no TV's, no shopping malls, and no fast food chains, there is little to distract you," says Doug. "Couples are free to focus on each other. Spontaneity reigns. Find a secluded beach or your own waterfall, and enjoy them all to yourselves."
Hotel Hana-Maui accommodates many small, upscale, intimate weddings. "The historic Plantation House offers the perfect location for a reception. Hamoa Beach or Wananalua Congregational Church offer different choices for your ceremony, and your guests will find their own romance while celebrating with you."
They do weddings as well as vow renewals every month. "Many are second marriages where the couple is looking for something smaller with close friends and family."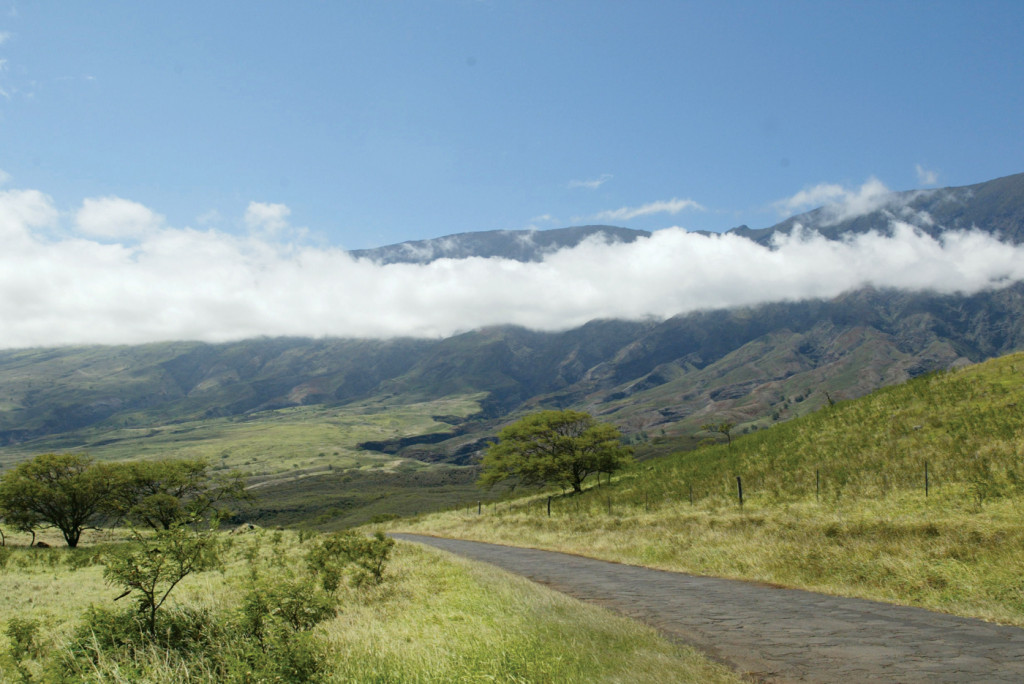 Lush Wailea
Cradled between the slopes of Haleakala Volcano and the ocean, Wailea looks out over the island of Kaho'olawe. From its beaches you also can see Molokini, the lip of a submerged volcano. It's a marine sanctuary, and a favorite snorkeling spot for local dive boats. 
Wailea's golf courses include two that have been named among the country's best. The resort area is also home to Maui's newest shopping complex, The Shops at Wailea, featuring world-class restaurants and shops.  
"Over 80 percent of our rooms have ocean views," says Kathy Dziedzic of Wailea Marriott, an Outrigger Resort. "Honeymooners especially like our  rooms closest to the water. Some are only 50 feet away. You can hear the waves breaking on shore — it's a great way to fall asleep while enjoying the romantic ambiance of Wailea and Maui."
But what is most striking as you enter — after being warmly greeted and offered fresh leis — is the spacious open-air lobby.
The hotel has panoramic ocean vistas plus a lavish décor of Hawaiian woods, original island artwork, and period pieces from the early 1900's.
Within a short drive are three championship courses at the Wailea Golf Club, and 11 Plexipave courts at the Wailea Tennis Club. Other activities include ocean kayaking, snorkeling, scuba diving, biking down Haleakala Volcano, hiking tours, and windsurfing and surfing lessons.
Another favorite is whale watching. You will likely spot several playfully cavorting in the nearby waters, and join locals and travelers alike, mesmerized at the sight.
Wailea Marriott sits on a 22-acre seaside promontory straddled by two white sand beaches. "Our spacious lawns are dotted with coconut trees and offer spectacular vistas of the Pacific Ocean, West Maui Mountains, and offshore islands of Molokini, Kaho'olawe, and Lanai." A pedestrian beach path offers easy access to both beaches and to three other beaches carved into the Wailea coastline.
"Our most romantic moments include sunset cocktails at our surfboard-shaped bar table at the Mele Mele Lounge," says Kathy. There you can enjoy spectacular ocean views, while sipping their exotic mangotinis made with vodka and mango puree.
"Strolls on the beachwalk in the early morning or at sunset are also romantic." Enjoy private tennis or golf lessons together, or dine under the stars at Kumu Bar and Grill, where a torch-lighting ceremony, hula dancing, and Hawaiian music can be enjoyed each evening.
At the hotel's spa you can indulge in the lomi lomi massage for couples. Rooted in the traditional massage of Hawaiian royalty, lomi lomi relies on long, gentle strokes to manipulate muscle tissues and induce deep relaxation and well-being.
"For an exotic night of lavish Hawaiian foods, traditional ceremonies, tropical drinks, and a spectacular show, attend our luau," says Kathy. One of the most sophisticated on the island, the show is presented four times a week and includes  three-time world champion fire knife dancer, Ifi So'o.
"Many of our wedding couples are moving their rehearsal dinners outdoors to our luau, which is one of the best in the state.
"Brides have discovered that holding their rehearsal dinner at our regularly scheduled luau makes practical sense. It's fun, there's great entertainment, a generous buffet, and an open bar. There's also virtually no dinner-planning, no menus to select, no band to book, and no cleanup duties!"
The hotel is especially accommodating for destination weddings, and they host, understandably, several hundred a year.
"What sets the Wailea Marriott apart is what we call our 'Hawaiian heart,' " says Kathy. Outrigger is a Hawaii-based corporation and the hotel is deeply committed to preserving and presenting the island's rich culture.
"You're greeted with a warm welcome and fragrant lei upon arrival. Authentic hand-sewn Hawaiian quilts hang on the walls like treasured works of art. Seed and feather leis and calabash bowls adorn tables and rooms. A historic 34-foot koa wood canoe is proudly displayed in the spacious, open-air lobby. Local music and dance, and a torch-lighting ceremony, light up each evening.
"Even the design of the carpet and lobby furniture, and the naturally ventilated hallways, are part of our commitment to celebrating the magnificent, unique, Hawaiian culture." —Rick Bard