Meredith & Scott | On Their Anguilla Honeymoon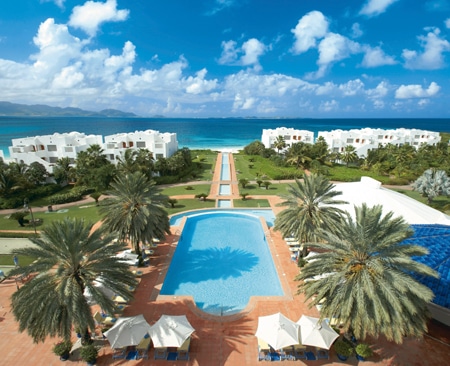 They won our honeymoon trip to CuisinArt Resort & Spa in Anguilla and had an exciting, romantic time. Here is their honeymoon story...
CuisinArt Resort & Spa in Anguilla
www.cuisinartresort.com
College Sweethearts
They were both seniors at Penn State University and met just two months before graduation.  They made plans to see a movie and from then on were inseparable for the next six weeks. After graduation, Meredith  moved back to New Jersey for graduate school to become a high school guidance counselor. Scott had enlisted in the Navy during his junior year of college to help pay for his education, and that fall, soon after graduation, he left for boot camp.
Scott was stationed in Norfolk, Virginia, while Meredith was attending graduate school. Then, after a routine doctor's visit, she was diagnosed with cervical cancer at age 25. Scott was by her side the day of her surgery and helped her through it all with his encouragement and upbeat attitude.
After his four-year tour was over, he began working in finance for a Brussels-based firm. He proposed in front of her family and they were married at the Wilshire Grand Hotel in West Orange, New Jersey.
They look back at what they've been through and know they can get through any problem, appreciating every day they have together. He laughs every time she looks at him and say, "You are my best person."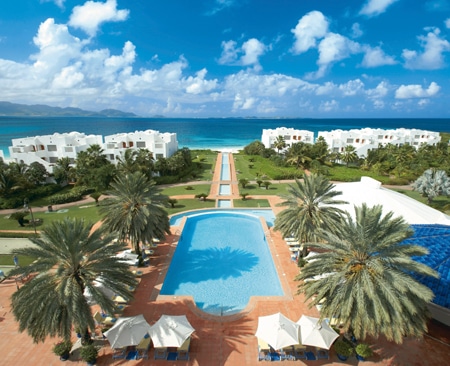 Their Honeymoon
Anguilla is by far the most beautiful island we have ever seen and the Cuisinart Resort & Spa was luxurious!  From the moment we landed in St. Maarten, everything was perfectly organized and people were waiting for us and greeting us every step of the way.
Inez Giusti from the Cuisinart Resort & Spa spent hours arranging everything for us and we had so many great conversations with her on the phone.  She recommended the best restaurants and activities for us.  When we arrived, we took the Funtime Shuttle speed boat from St. Maarten to Anguilla, which was so much fun and Scott and I were the only people on the boat, so it was practically a private charter. 
Even though the weather was overcast and a little rainy, we had a blast touring around the island and enjoying a Red Stripe on the way!  Our room was spectacular, especially the huge balcony right on the beach.  Everything from the service to the staff to the guests made this trip restful, relaxing and so much fun. 
We took a cooking lesson with the chef from Santorini and took a tour of the hydroponic garden, hung out at the Dune Preserve, the coolest place, went snorkeling, sat on the beach, and went to great restaurants.  We ate at Santorini, Tasty's, Straw Hat, which was our favorite, and Mango's.  The food is outrageously delicious on the island.
We also went to the annual Anguillan Jazz Festival one night, which was held at the resort. Again, we thank Manhattan Bride so much for making this the most wonderful honeymoon we could have ever asked for. It was way above our expectations and we will never forget it!