Karen McDonald | Body, Mind, & Fitness
Dance, Nutrition, & the Energy of Life
"If you have a happy body, then you have a happy life," says Karen McDonald of True Balance Living. "That means good nutrition, exercise, and purification. If your body is running optimally, you're also more creative."

Karen has over 30 years of experience in competitive dancing and earned over 240 titles worldwide before retiring. She has since been providing dance instruction to brides and grooms and wedding parties. She also has taken on a number of independent ventures, raising money for the Autistic Children's Association in Australia, sponsoring dance lessons for a low-income family, and volunteering with the Art of Living Foundation. Her dedication earned her the 2005 Woman of the Year Award from the American Business Women's Association.
"The Dance of Life"
Karen also helps her wedding couples achieve higher levels of energy and joy in their lives and relationships. She does this by combining her ballroom expertise with holistic movements and a playful spirit, offering "life training," which includes bodywork and breathing techniques, meditation, yoga, and more.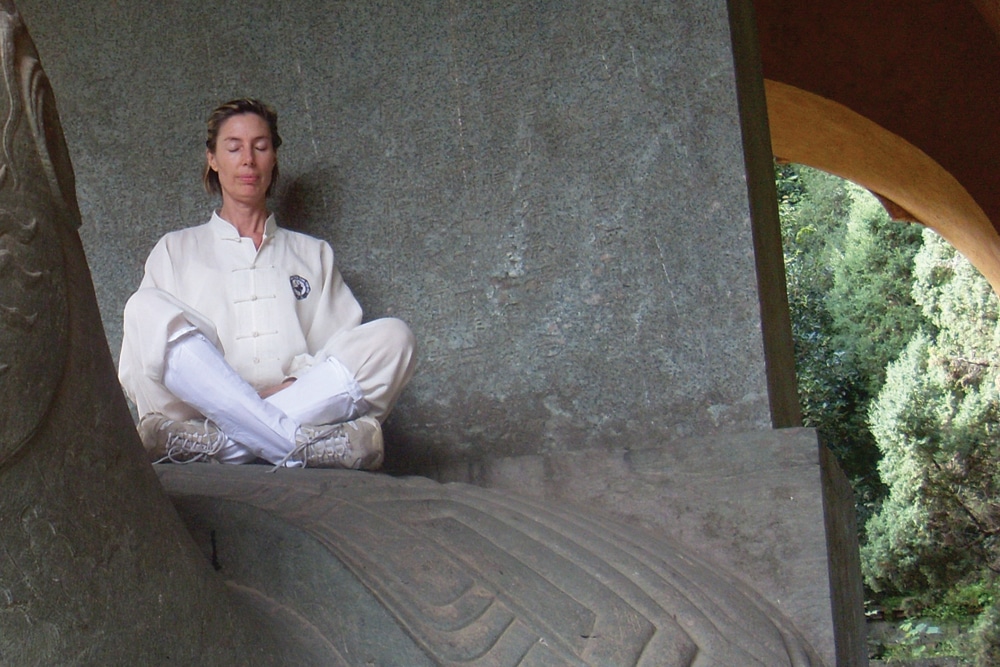 "Meditation, for example, can give you a lot more energy than sleep alone. It quiets the mind so you are in a totally peaceful state. Like with ballroom dancing, you leave your world of stress and enter a new world of harmony. For example, sitting together quietly and holding hands for a few minutes can become a near-meditative experience. It's also wonderfully intimate."

Exercise and a healthy diet of course improve stamina and poise and help lower stress. "I've worked with brides who wanted to lose 10 to 15 pounds before the big day. If I'm given at least two or three months, we often can have amazing success. There's even a healthy chocolate that actually supports the cleansing program I endorse."

Karen explains that the body also benefits from a cleansing process that rids it of impurities. "Furniture, air conditioners, and carpeting, for example, often have impurities that we're breathing in. Even what we use to clean things, like shampoo, soap, and household cleaners, often contain chemicals that you don't want to be near. But we can't all go to a mountain and do Tai Chi or meditate, so we have to incorporate cleansing approaches into our lives."
Taoism & Feng Shui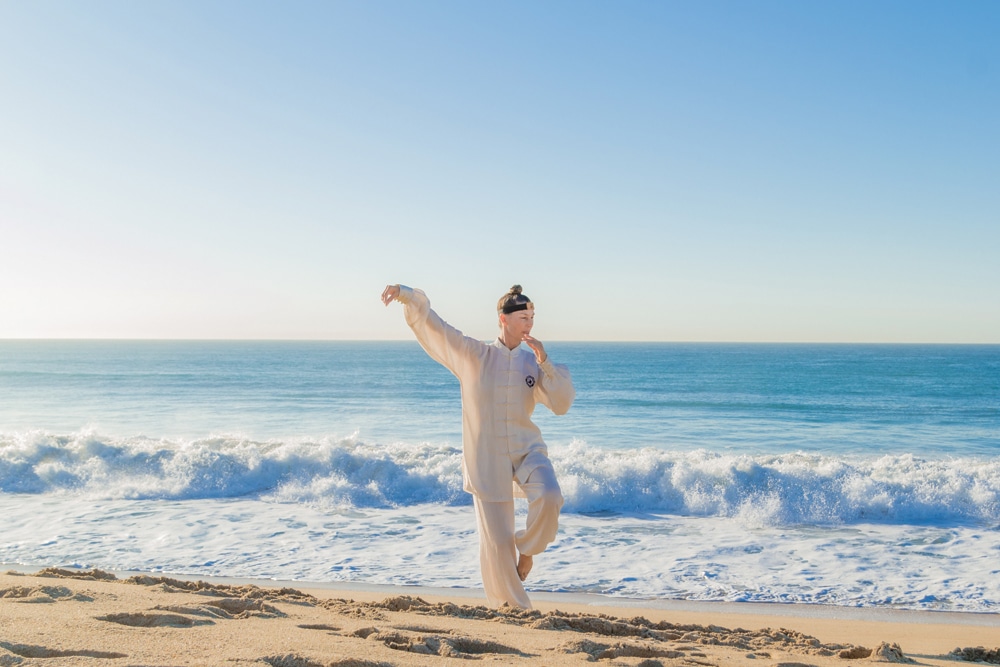 Karen thoughtfully introduces these new concepts to her clients. "I use a Taoist philosophy, one of living in harmony with the natural rhythms of the world."

Feng Shui also creates harmony in your surroundings, and Karen suggests incorporating aspects of feng shui into your spaces. "For example, you can add certain colors into your home or hang a chime in your apartment or office, and find that they've created a calming effect.
"Creating harmony in your life and in your space also can help release any inflexibilities, whether physical, mental, or spiritual. These inflexibilities can be holding you back from learning and excelling in your dance routine — and of course freeing yourself from their grip can help you learn and excel in all aspects of your life."

Karen also employs T'ai-Ji Ch'uan, which boosts flexibility and strength through its flowing movements. She couples that with Qigong, which brings out the natural energy and flow of a person's 'Qi' or inner spirit. "Together they can improve your health, sharpening your mind, and help us lead longer, happier lives."
Techniques & Insights, Both New & Old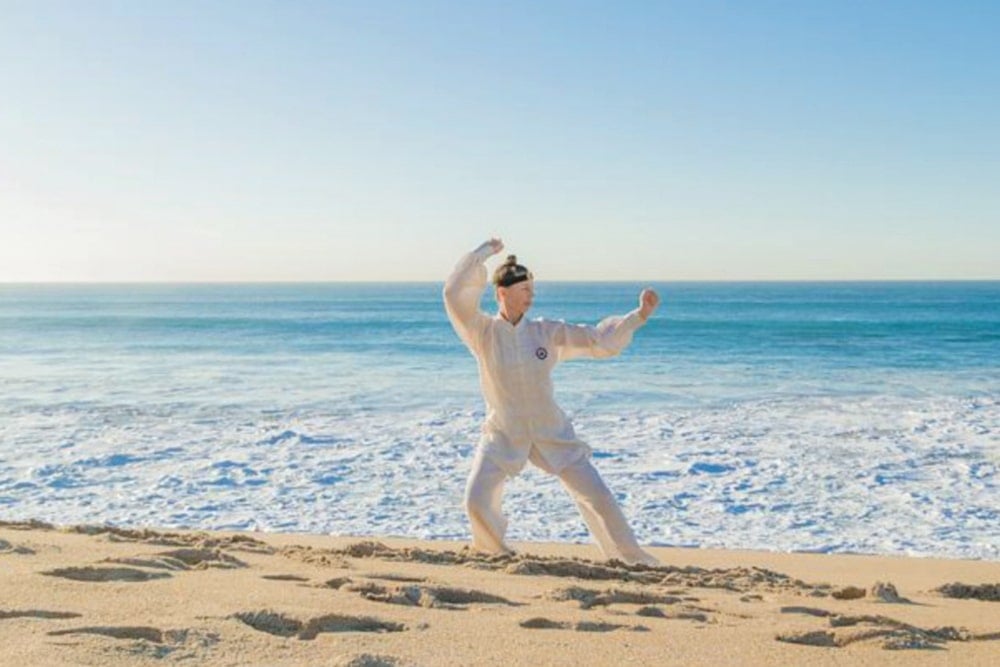 Inspired by the results she was seeing, Karen created EnerQiTM, combining the healing aspects of Qigong with the athleticism and discipline she experienced through years of championship competition. "EnerQiTM combines the structure of Qigong with the joy of dance. Qigong is an ancient healing system, strengthening the digestive and circulatory systems, while dance is an invigorating workout for the mind and body."

To provide a philosophical underpinning, Karen also may use the I Ching. "It can empower individuals to find a balanced life of prosperity, health, career, and relationships." The oldest of the Chinese classics, over the course of 2600 years and innumerable commentaries, the I Ching has become a series of practical philosophical insights. It has helped countless individuals make important decisions, wisely guiding them by the ancient wisdom of Taoism.
Over the centuries, the book also has inspired the worlds of religion, psychoanalysis, business, literature, and art. Today it remains an insightful guide to the most modern of life's challenges, and Karen is specially trained in its interpretations.

"When people get married," says Karen, "it's a new beginning. It's exciting for me to be part of that journey with them and it's very rewarding to introduce them to new ideas and proven philosophies that can work for them."

Karen McDonald, True Balance Living
315.459.1453, www.truebalanceliving.com