Birchwood Manor | Add Your Personal Style
Add Variety ... "Cocktail hour will always be in a room adjacent to an outdoor terrace, so your guests also can celebrate outdoors under the canopied terrace with ceiling fans and outdoor food stations."
Celebrate Your Traditions ... "A 'Fusion Wedding' will have two ceremonies and in several weeks we will host a Hindu-Christian wedding. We'll start with a Hindu ceremony, break for lunch, then have a Christian ceremony, followed by cocktail hour and dinner."

Birchwood Manor, 111 N. Jefferson Rd, Whippany, NJ 07981
973.887.1414, [email protected], www.birchwoodmanor.com
Celebrate With Your Personal Style
Personalized Weddings!
"One of  our brides wanted to surprise her husband," says Farrell Holleran, assistant banquet manager and the fourth generation of Birchwood Manor's 50-year old family business. "He competes in the Tough Mudder races and we designed a 'Tough Taster' mesquite grill station with exotic foods like wild boar ribs, smoked rattlesnake, crocodile andouille sausage, kangaroo sliders, and skewered buffalo brochettes. We gave each guest who tried some a 'Tough Taster' headband' and everyone loved the mesquite grill."

"They also had fresh shrimp, oysters, lobsters, and all kinds of hot and cold stations," says Michael Marino III, Birchwood Manor's banquet manager.Then they sat down for a full dinner. Later we served a Viennese table with desserts on the terrace and s'mores at the firepits outside."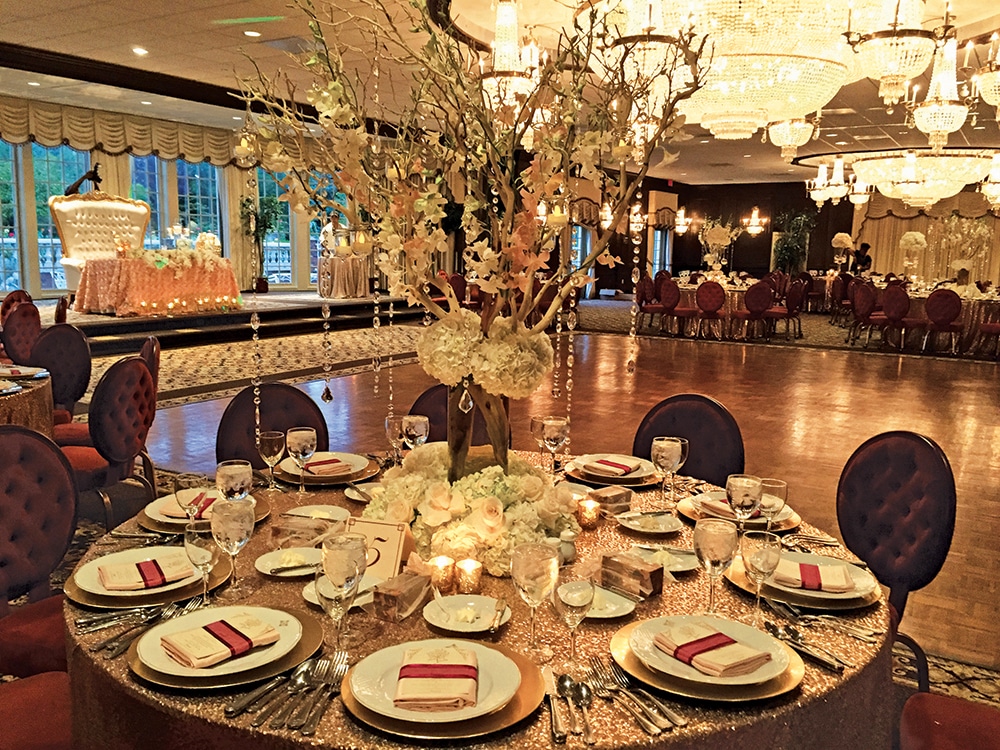 Another couple had the mesquite grill station with cajun tuna and rack of venison which added a 'Rustic Outdoorsy' vibe to their wedding. They had a custom ice sculpture of a 10-point buck and the centerpieces were actual deer antlers with the bride and groom's name and wedding date, with a simple vase of meadow wildflowers. "For their wedding cake, our baker created a tree trunk carved with their initials."

Michael tells us that another couple had a 'Disney Beauty & the Beast' theme. "Their centerpieces were huge glass domes with a single rose and they had a Cinderella carriage for a gift card box." Their signature drink was the Electric Lemonade, with blinking ice cubes to mimic the Electric Parade. They displayed porcelain princess characters and they honeymooned at Disney World, where the bride had her dress flown so she could take pictures there.

"We recently did a 'Great Gatsby' wedding," says Michael. "We kept the bar open until 2 am and the dance floor was packed all night. They had specialty drinks mentioned in the novel and guests were dressed in flapper dresses, old fashioned hats, and suspenders. The bride wore a special 20's gown with a headband."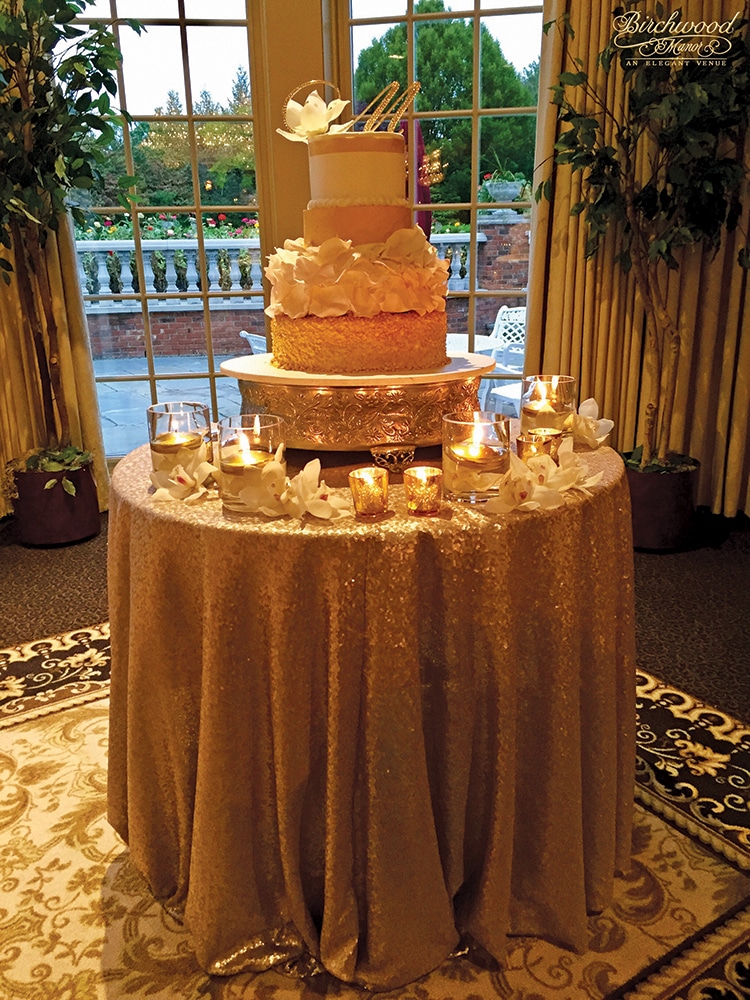 They've also created a number of elegant 'White Out' weddings, draping the walls and ceiling in white satin, with only the four crystal chandeliers showing. "Hang a sparkling disco ball over the center of the dance floor with a White Out theme and you get a 'Disco Club' ambiance," says Farrell. "It's also perfect for a Great Gatsby 20's theme."

They set up a raw bar in a rowboat for a recent 'Beach' wedding, decorating it with a fisherman's net, starfish, a lobster trap, shells, and brown sugar to resemble sand. Their wedding cake had starfish and as a cake topper they had two fishing hooks forming a heart shape.They had a fish ice carving and served lobster tails, crabs, and oysters. "The décor was all beach," says Farrell. "They even had anchors and mini boats as centerpieces."

Birchwood also has hosted Military Themed weddings, "where the groom uses his sword to cut the cake," Irish Weddings, with bagpipes and Irish stepdancers for entertainment, and even a 'Harley Wedding.' "The couple made their grand entrance into the ballroom riding their Harley motorcycle."
Options for All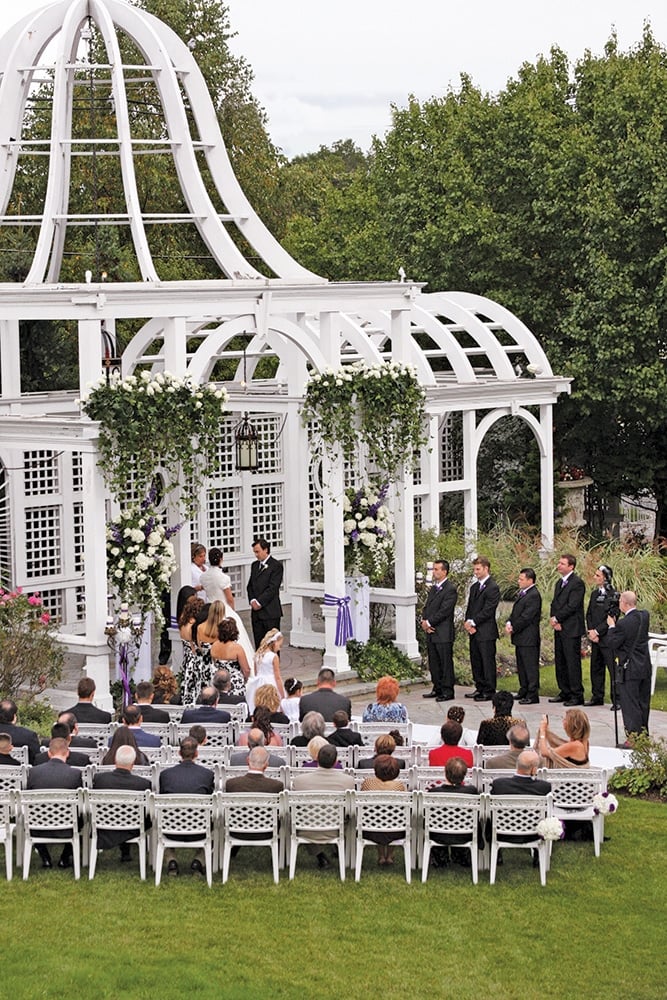 "We have two different wedding ceremony sites," says Farrell. "The Arbor is more intimate, with a 44-foot bridal aisle, while the Pergola features a 110-foot arched bridal aisle. Our grounds have fountains, ponds, a gazebo, and gardens. We also have an intimate glass-enclosed atrium which can hold up to 80 guests and overlooks the East Lawn and Pergola.

"Cocktail hour will always be in a room adjacent to an outdoor terrace, so your guests also can celebrate outdoors under the canopied terrace with ceiling fans and outdoor food stations. We have our own bakery and can serve freshly baked warm panelle bread as guests take their seats. Our baker also can create any wedding cake from a photo. Our Viennese table is a masterful display of confections and a must if you love sweets."
Ethnic Weddings
Birchwood also hosts many South Asian weddings. "For Indian weddings, the groom arrives on a horse with an embroidered saddle, sometimes even on an elephant, and parades down the driveway among dancing and singing to meet the bride's family. After the ceremony, they have lunch, often break for a few hours and return for cocktail hour and dinner."
Fusion Weddings
These weddings will have two ceremonies. "For example," says Michael, "in several weeks we will host a Hindu-Christian wedding. We'll start with a Hindu ceremony, break for lunch, then have a Christian ceremony, followed by cocktail hour and dinner. We already sat down with the couple and went over what types of Western and Eastern foods they want. We can create almost any dish they suggest.

"I work closely with couples for sometimes well over a year as we plan their wedding," says Michael, "and hearing the introductions and speeches from family members, friends, and parents on their wedding day is the most touching thing to me.

"This is a family business, and creating special celebrations is what we do. To hear that everyone had a great time just makes my job very satisfying."
Birchwood Manor, 111 N. Jefferson Rd, Whippany, NJ 07981
973.887.1414, [email protected], www.birchwoodmanor.com