Falkirk Estate | Exciting Wedding Surprises
Add Variety. "At your cocktail hour, offer your biggest variety, so your guests can try a little of everything."
Ceremony & Reception: Falkirk Estate, 206 Smith Clove Road, Central Valley, NY 10917. 845.928.8060, [email protected], www.falkirkestate.com

Photography: Allen E. Levine Photography. Gown: Enzoani. Bridesmaids: Dessy Collection. Tux: Vera Wang. Makeup: Color Makeup Studio. Hair: Kelsey Mele. Florist: David Anthony. Cake: A Little Cake. Music: Tony T. Orchestras. Limo: Platinum Limo. Special Surprises: July 4 Ever Fireworks. Shamrock Helicopters.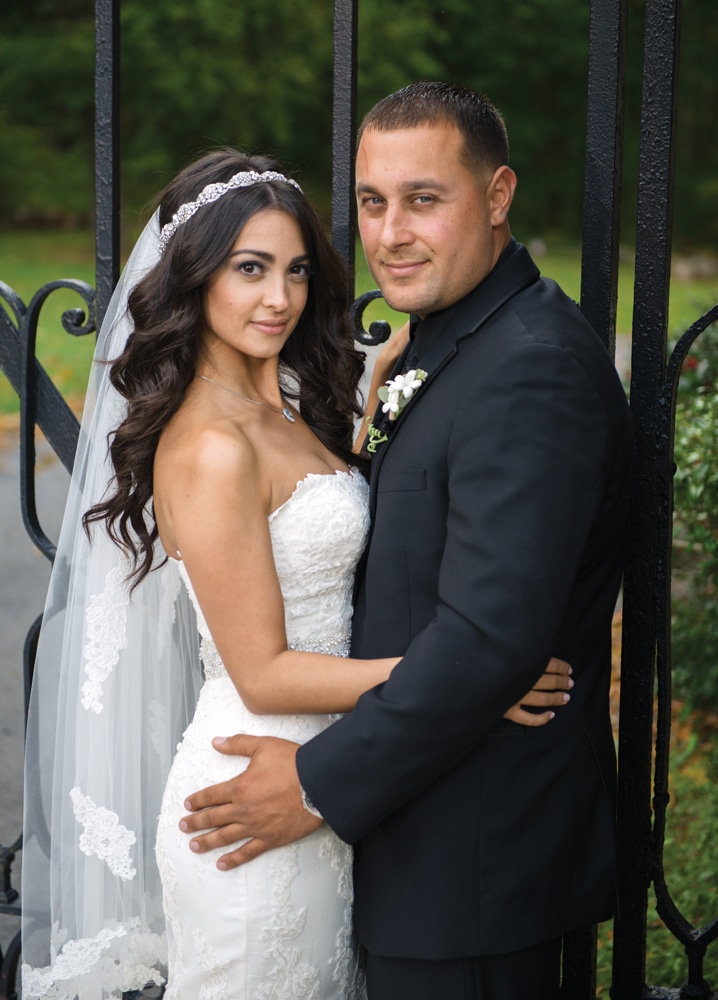 FROM THE BRIDE

"Working with everyone at Falkirk Estate was like a dream." says recently married Falkirk bride Alexa Spinelli-Brigante.

"They made planning my wedding so simple and such a delight. Obviously, my father, who is director of catering at Falkirk, took on most of the work. He's been in this business for many years and makes it all look so easy.
"The rest of the staff went above and beyond to make sure I was relaxed the whole time. If I needed something, they were already there with it. The service was impeccable and our guests still rave about how attentive the staff was."
Alexa wanted a fall wedding with the crisp chill of the air and the season's colorful foliage. "Falkirk is a great place for a fall wedding in particular, because the views on the patio where we got married are simply breathtaking. The venue sits on the golf course and leaves on all the tress surrounding the venue had turned shades of orange and yellow.
"The best advice I received," she says, "was to sit back and take it all in. It's important for you and your spouse to look around at what you've created, so you can cherish those moments."
Alexa's father set up several surprises for her throughout the day. "The first was when he and I showed up in a helicopter! It blew our guests away. After dinner, my father surprised me again with a fireworks show that lit up the night sky. Later at our after party, my father unveiled his last surprise of the night, a cigar bar for my husband, Russ!"
FROM THE VENUE
"Having done weddings for 35 years," says Tommy Spinelli, general manager and director of catering at Falkirk Estate & Country Club, "I wanted to create a couple of unique surprises for Alexa and Russ. "I believe in doing things that are elegant, but with a big wow factor. The helicopter was a wonderful way to kick off an amazing wedding.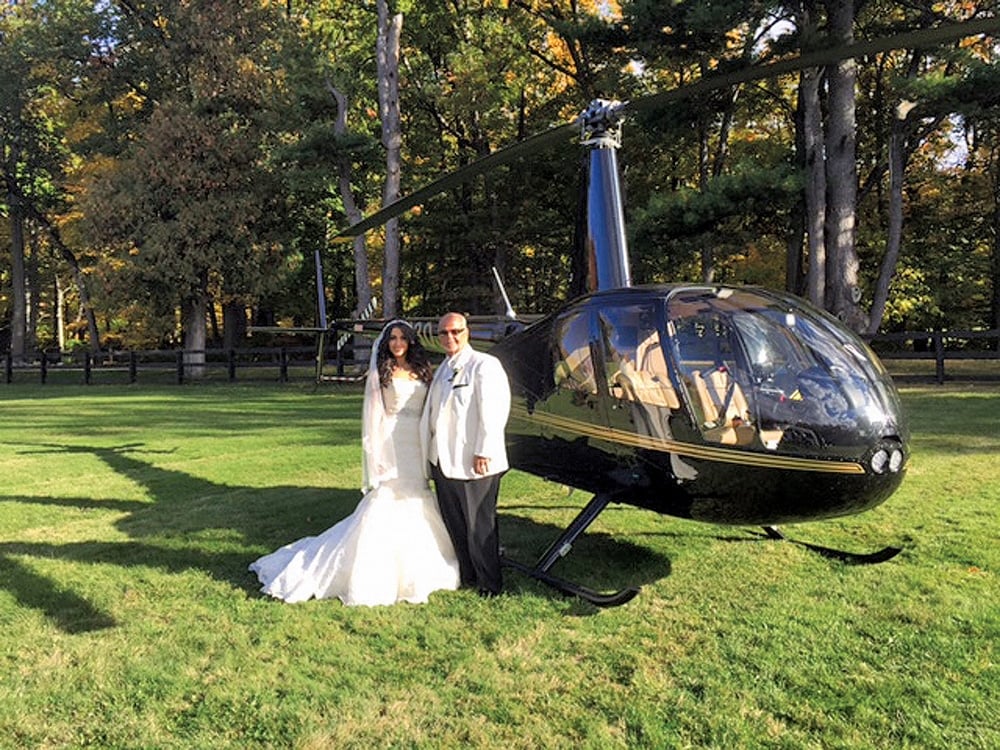 "I wanted to also end in an equally memorable way, with a fireworks display by July 4 Ever Fireworks while Whitney Houston's 'One Moment in Time' played as the soundtrack. The cigar rolling bar was also a fun surprise for my son-in-law at the after-party.
"Through the years I have always put my heart into each wedding because I know how special this day is for every bride and groom. I've helped create surprises for many brides and it always touches my heart to see the joy on their faces and hear them say, 'Thank you for making my dream come true.' "
Alexa and Russ had a simple color palette of creams, taupes,   and browns. "The ballroom was uplit in white lighting and the tables had chocolate brown satin tablecloths, napkins, and chair sashes, which we accented with gold mercury glass votives.
"The centerpieces were provided by my house florist, Florals by David Anthony. The tables had elevated arrangements of whites and creams, with dendrobium orchids, hydrangea, and roses. The magnificent white gazebo in our garden courtyard was adorned with the same mix of flowers, and the inside of the gazebo was draped with strands of white satin and crystal."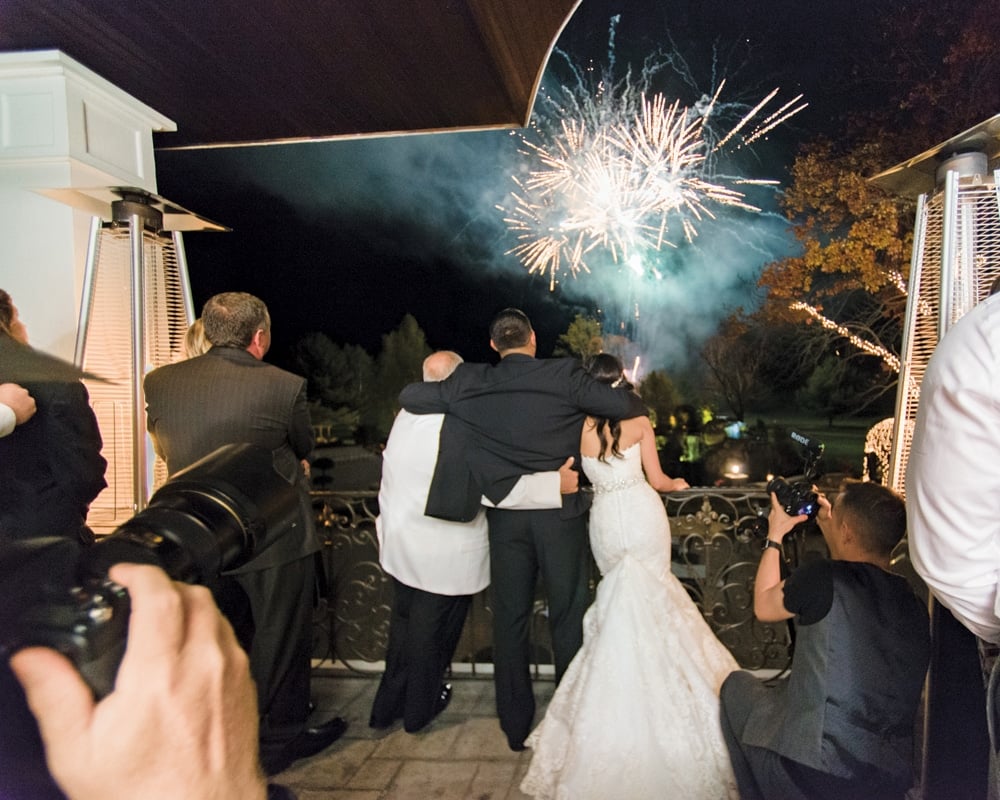 Alexa and Russ wanted a band. "So I talked to my fabulous house band, Tony T and The City Express Orchestra. Tony Traina, the band leader, friend, and business associate for over 20 years, had an eight-piece orchestra, amazing vocalists, and a DJ.They wowed all the guests and kept everyone dancing."
An Exciting Menu
"At your cocktail hour, you should offer your biggest variety, so your guests can try a little of everything. My fun station was our New York Deli Street Cart, which we had outside on our patio. It had Sabrette hot dogs with all the toppings, hot pastrami on rye, and potato knishes. We also had our fabulous assortment of butler-passed hors d'oeuvres and, since both families are Italian, we had pastas, fried calamari, and other Italian favorites."
They also had a seafood station with jumbo shrimp cocktail and blue stone crab claws and a carving station with rosemary-encrusted rack of lamb and roast duck breast. The centerpiece of the cocktail hour was a bountiful Tuscan antipasto table, with Italian favorites like prosciutto di parma and parmigiano reggiano.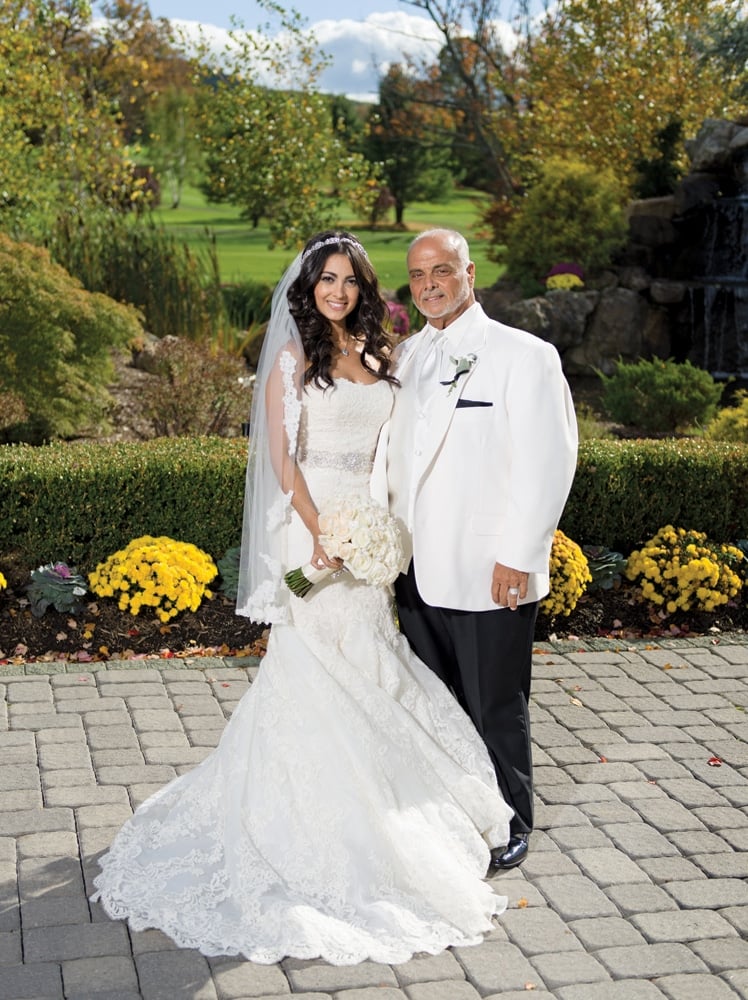 The reception menu was more traditional. "We started with fresh buffalo mozzarella and beefsteak tomato with fresh basil and balsamic drizzle with a frise salad. An intermezzo of lemon sorbet followed, and then guests could choose châteaubriand with a red wine demi glace, French-cut breast of chicken stuffed with sautéed spinach and Asiago cheese, or Atlantic salmon fillet with a French dill bechamel sauce."
Desserts included a four-tier wedding cake from A Little Cake with a delicious cannoli cream filling.  We also did our dessert tower for each table which included cannolis, miniature cheesecakes, and assorted macaroons and shot glass desserts. There was even a gelato bar with toppings and a homemade zeppole station.
"Abel Molina, our executive chef, is an absolute master in his kitchen and he did an outstanding job as he always does. Every wedding is very special to me, and this was my daughter's wedding, the thrill of a lifetime!"
Falkirk Estate & Country Club
Central Valley, NY 10917, 845.928.8060
[email protected], www.falkirkestate.com