The Powelton Club | Country Club Wedding
Smaller Weddings ... "We specialize in smaller weddings and do not have a guest minimum. These are really important features to our wedding couples as we move forward in these unusual times."

Personlize your Menu ... "Recently we had a couple who requested a completely vegetarian wedding menu with some vegan items included. Their cocktail hour had a Mediterranean station with bruschetta and tapenade. Their appetizer course included a mozzarella and tomato dish, followed by a baby spinach and strawberry salad. Entrées included ..."

Communicate Your Desires ... "Each couple has their own wants and priorities and it's important to find out what they are and achieve that vision for them."
The Powelton Club, 29 Balmville Road, Newburgh, NY 12550
Rebecca Caldarella, [email protected], 845.561.4481 x10, powelton.com
All Your Wishes, Smaller Weddings ... "We have a historic background and a unique 100-acre setting," says Rebecca Caldarella, event coordinator at The Powelton Club, "and our couples make the most of the property with outdoor ceremonies on our spacious grounds, enjoying the views." Formally organized in 1882, the club celebrated their centennial in 1982 and their 130th anniversary in 2012.

"We specialize in smaller weddings and do not have a guest minimum," says Rebecca. "These are really important features to our wedding couples as we move forward in these unusual times.

Custom Menus ... Many couples want unique menus. One of their brides and grooms both had celiac disease. "To put them at ease, we created a completely gluten-free menu, with cocktail hour favorites like miniature grilled cheese with tomato soup and bacon-wrapped scallops, an appetizer of penne alla vodka, family style antipasto, a Caesar salad, and four entrée selections.

"Their evening finished with a gluten-free wedding cake. Their guests were raving about the food, unbeknownst to them that everything was gluten-free. Most importantly, the bride and groom could relax on their wedding day, knowing that they could eat everything at their wedding."
"Recently we had a couple who requested a completely vegetarian wedding menu with some vegan items included. Their cocktail hour had a Mediterranean station with bruschetta and tapenade. Their appetizer course included a mozzarella and tomato dish, followed by a baby spinach and strawberry salad. Entrées included stuffed baby eggplant, mushroom Wellington, vegan pappardelle pasta primavera, and a fresh fusilli pasta dish from a recipe prepared at home by the couple. Guests complimented the food and the bride and groom were excited they could eat everything at their wedding."

Your Theme, Your Decor ... "Couples come to us with all kinds of visions in mind. Many are looking for a more casual atmosphere with constant food and dancing after the ceremony. Our variety of stations and moveable dance floor allow us to create their vision without compromising on elegance. With the dance floor set up in front of our fireplace instead of the dining room, for example, guests are able to enjoy dinner or catch up at the bar while not missing a beat of the wedding.

"For couples wanting to wed during the holidays, our venue is decorated from Thanksgiving to New Year's Eve. They simply need centerpieces and their decorating is complete."

Caring For Their Wedding Couples ... They have a simple wedding philosophy. "Listen to your clients!" says Rebecca. "We are here to help! If there is a way to achieve it, we will make it happen. We are here to listen, offer advice and guidance, and execute their perfect wedding day as a no-stress event."
"There is no such thing as too many emails or silly questions if it means putting a client's mind at ease. I take the time to get to know my clients, how they met, where they got engaged, the proposal, what they like to do, etc. Couples receive our full attention.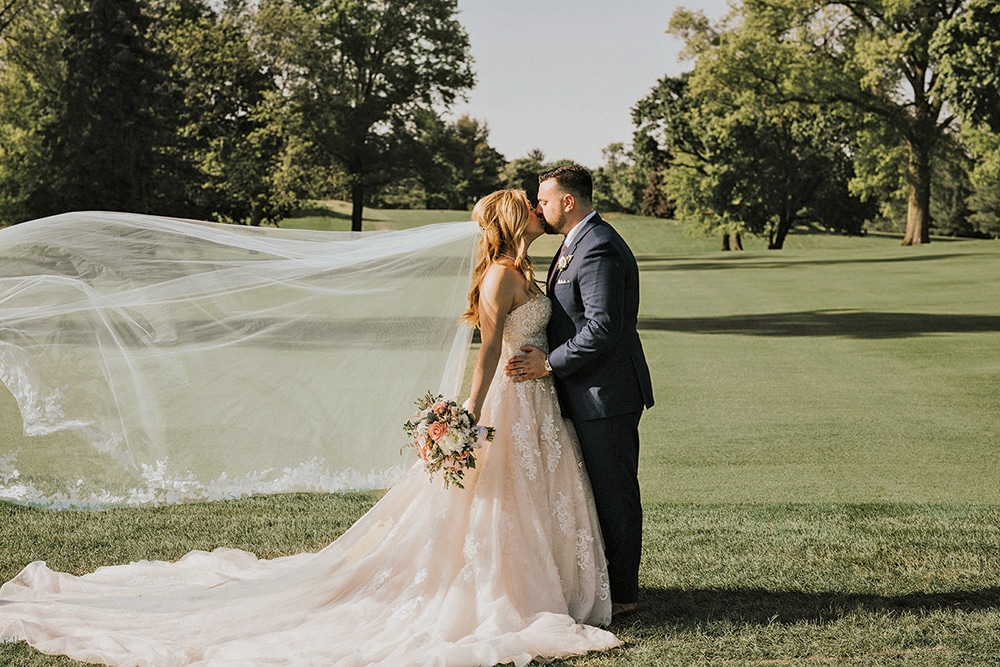 "I initially meet with them to discuss their day, book their date and plan with them, and I'm also here the day of their wedding. Each couple has their own wants and priorities and it's important to find out what they are and achieve that vision for them."

From a young age, Rebecca loved planning parties and events. "When I found out I could do that for a living, I knew I had found my career. I've always been fascinated by weddings and all the detail that goes into them." She graduated from The University of Massachusetts at Amherst with a major in Event Management.

"The ceremony is always my favorite part of the wedding. I love watching two people who I've gotten to know exchange their vows. The first dance, parent dances, and speeches are also favorite moments. The best part is when they stay in touch with us after the wedding. I love hearing about their honeymoon, buying a house, or when they have kids and want to plan more events. It's nice to become part of their life and to be there through all their milestones."

The Powelton Club, 29 Balmville Road, Newburgh, NY 12550
Rebecca Caldarella, [email protected], 845.561.4481 x10, powelton.com