Virtual Planning | Fashion, Gowns, Beauty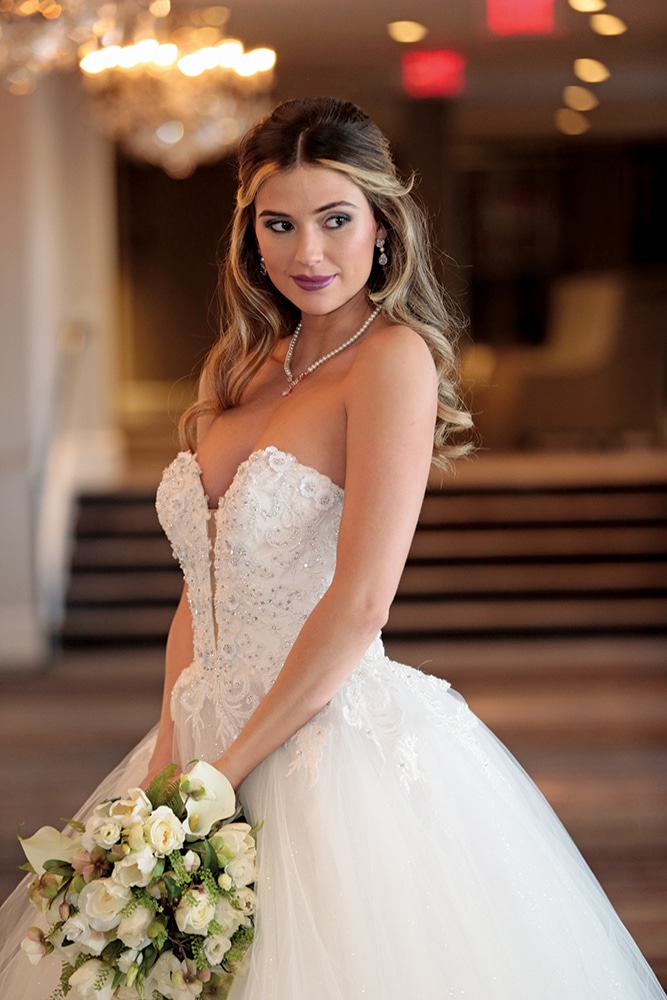 Our vendors are providing a wide array of Virtual Wedding Planning Services. They've made it easier than ever to plan from home — and we invite you to take advantage of their special planning services.
Connect through Email, FaceTime, and Web Pages, or ask for a Zoom Link for any virtual service you need.
Schedule Virtual Appointments ... Browse Virtual Showrooms for the Newest Gowns ... Set up Q & A Chats on FaceTime. And here's our new 7-Step Guide to Rescheduling Your Wedding.

---
GOWNS
Eve of Milady and Amalia Carrara. "Designing wedding gowns is my true passion," says Eve Muscio. "Using the finest fabrics while creating laces, beadings, and embroideries, is my trademark. I wish that all my brides experience magical everlasting memories of their wedding day." See Eve's Newest Gowns On-Location and On The Runway

Eve of Milady, 516.857.3920, [email protected], eveofmiladybridals.com/ Contact: Judie

To Access/Schedule Each Service
Virtual Appointments: [email protected]
Judie: "I will be sending brides to stores that will do virtual appointments and when a bride places an order with a bridal store, each gown will be made to order for that bride."
Jude Jowilson. Fashion designer Jude Jowilson offers one-on-one attention in his intimate bridal showroom, creating gowns sophisticated, classic, and modern, with exquisite attention to detail. Manufactured and hand-crafted in the USA, his gowns feature the finest fabrics and materials. See Jude's Newest Gowns On-Location Here & also Here

Jude Jowilson, 208 West 29th Street, Suite 311, NY, NY 10001/ 917.472.7613, [email protected], www.judejowilson.com

To Access/Schedule Each Service
Virtual Appointments: [email protected], 917.472.7613
Virtual Showroom: [email protected], 917.472.7613
Virtual Appts to Reschedule Wedding Date: [email protected], 917.472.7613
Bossina Couture. Couture wedding dresses from top designers, including Allure, Enzoani, Justin Alexander, Eddy K, Jasmine, Ellis Bridal, and Christina Wu ... a memory celebrated with champagne as you complete your final fitting. See Bossina Couture's Newest Gowns On-Location

Bossina Couture, 299A New Dorp Lane, Staten Island, NY 10306/ 718.685.6752, [email protected], bossinacouturenyc.com, Contact: Clara Gabra

To Access/Schedule Each Service
Virtual Appointments: [email protected], bossinacouturenyc.com, 718.685.6752
Virtual Gown Showrooms: [email protected], bossinacouturenyc.com, 718.685.6752
David's Bridal. Over 300 of their expert stylists are available to help bring your wedding vision to life, with bridal gowns, bridesmaid fashions, flower girl dresses, tuxedos, and accessories … from Oleg Cassini, Galina, Melissa Sweet, Vera Wang, and more. Locations in NY, NJ, CT, PA, and  throughout the country. See their Newest Gowns On-Location

David's Bridal, 45 West 25th Street, New York, NY 10010/ 646.827.4050, www.davidsbridal.com

To Access/Schedule Each Service
Text a Virtual Stylist: Ask All Your Styling Questions
Virtual Appointments: Schedule a Time with an Expert Stylist
Book an In-Store Appointment: At Select Locations Now Opening
TUXEDOS
Biltmore Tuxedos. Stay home and try on your tuxedo! Even though we're closed, we still want our customers to see the tuxedo they are choosing for their wedding! Call or email to set up a virtual consultation, via phone or FaceTime and we will ship your tuxedo.

Biltmore Tuxedos, 36 East Ridgewood Avenue, Ridgewood, New Jersey 07450
201.444.2722, [email protected], biltmoretuxedos.com
Contact: Anthony Avedisian

To Access/Schedule The Service
Virtual Consultation & Showroom: 201.444.2722, [email protected]
The Fountain Spa. A day at The Fountain Spa is a fantastic opportunity to relax, recharge, and spend time celebrating your special event with the people who matter most to you. Plan your wedding day services, bachelorette spa party, or bridesmaid luncheon with us. See their Newest Cover Shooting, newest Cover Beauty, and their previous Cover Shooting!

The Fountain Spa, 1100 Rt 17 N, North Ramsey, NJ 07446/ 201.327.5155, [email protected], www.thefountainspa.com

To Access/Schedule Each Service
Virtual Appointments: [email protected]
Virtual Appts to Reschedule Wedding Date: [email protected]
CLEANERS
Hallak Cleaners. Before the wedding, does your gown need a thorough cleaning or just a freshening up? After the big day, a proper cleaning and preservation assure that you will have your beautiful dress for years to come.

Hallak Cleaners, 1232 Second Avenue, New York, NY 10065
212.832.0750, [email protected], Hallak.com/wedding-services

To Access/Schedule The Service
Virtual Appointments: [email protected] or 212.832.0750
 (via FaceTime or perhaps Zoom, re: altering, cleaning, and/or preserving a gown)
Association of Wedding Gown Specialists. If you are postponing your wedding, to keep your gown safe until the new day, the Association notes that, to avoid discoloration ... make sure
your gown is stored in an opaque breathable bag, discard all plastic, do not store it in a room where people smoke or that is hot or damp, like an attic or a basement, and get it pressed before the day. (For more information, see the widely praised "best and most useful" article on Rescheduling Your Wedding.)